Titan Slim - 新しいスリークなQWERTYスマートフォン
新たなスリークなQWERTYスマートフォンTitan Slimで効率よく仕事を完遂する
Unihertz Titanシリーズの最小で最も軽いスマートフォンであるTitan Slimは、滑らかで均一で軽いグリップを提供します。 保持するのが楽しく、それはすべての相互作用を喜びにします。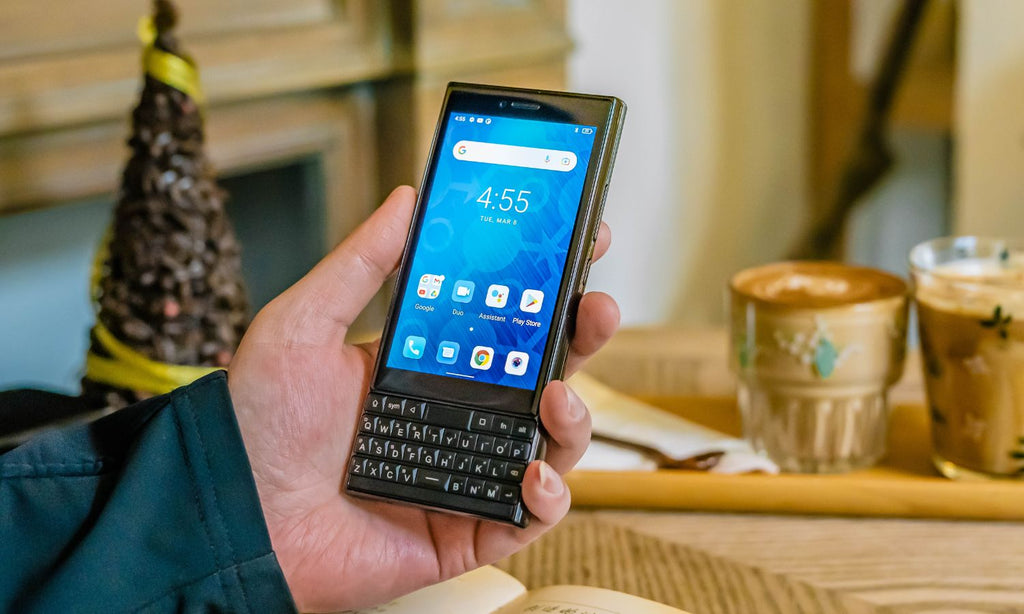 エクセレントなタイピング体験
Titan Slimの物理キーボードは反応がよく、ショートカットキーとしても使用可能.。 Titan Slimの完全なキーボードを使用すると、フランス語、ドイツ語、日本語などを含むさまざまな言語を簡単に入力できます。
キーボード対応言語
4.2インチ方形スクリーン
方形スクリーンはほとんどのアプリに対応 TitanやTitan Pocketのようにミニモードを使う必要がなく、動画とウェブ閲覧も簡単にできる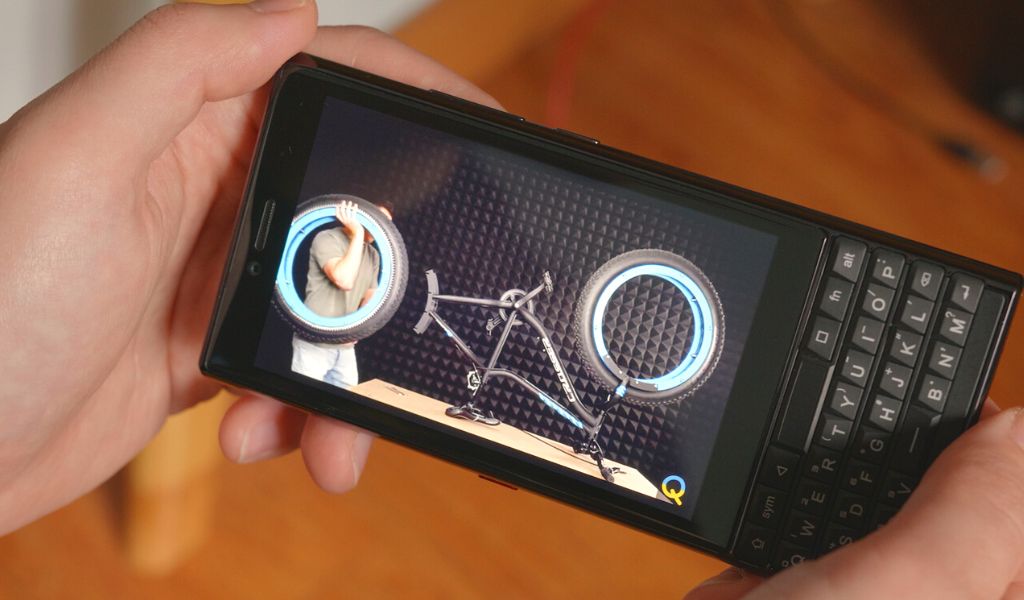 強化した48MPカメラ
前代と比べてリアカメラは48MPに強化し、より高画質で色鮮やかな写真を撮れます
256GBメモリー
Titan Slimには、そのストレージがブーストが付いています! 256Gのメモリを使用して、より多くの写真、音楽、またはその他のドキュメントを保存することができます。 Titan Slimを使用すると、作業ファイルを簡単に管理できます。
フィンガープリントとフェイスIDのロック解除
指紋センサーは物理キーボードに隠されています。 約0.1Sのロック解除時間は、プライバシーを安全に保護しながら、スムーズなユーザーエクスペリエンスを提供します。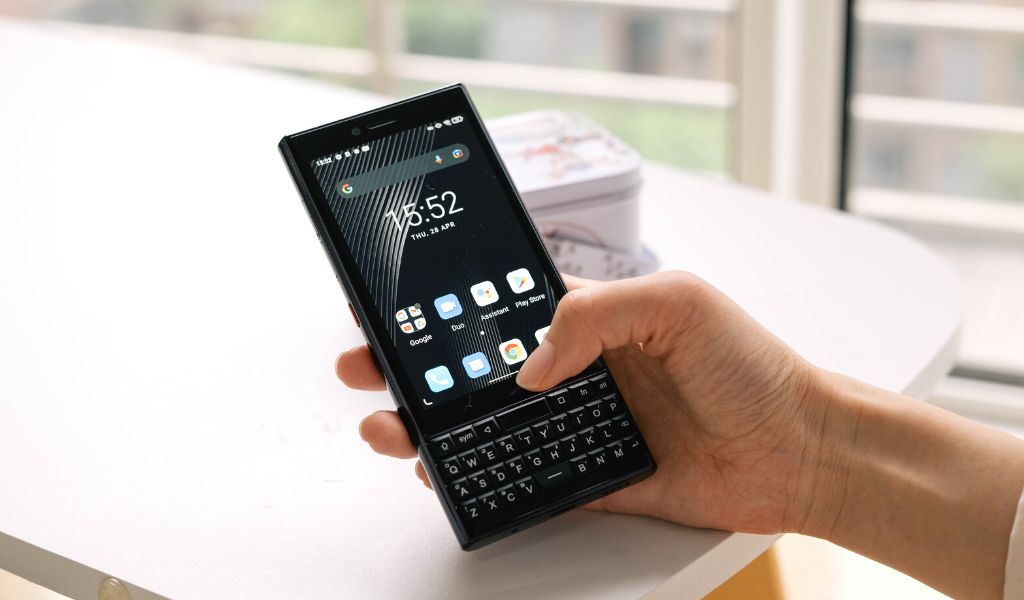 生命と仕事のための完全に機能するスマートフォン
Android OSを実行しているTitan Slimは、Google Playストアのほとんどのアプリと互換性があります。 また、障壁なしで古いデバイスからアプリやデータをコピーすることもできます。
メディアコメント
Unihertz Titan Slimスペック情報
---
基本情報
寸法: 146.85 × 67.6 × 12.75 mm
重さ: 204 g(バッテリーを含む)
CPU: Helio P70 オクタコア (2.1GHzまで)
OS: Android 11
メモリー: 6GB + 256GB DDR4 1600MHz UFS 2.1
バッテリー: 取外し不可4100 mAh
SIMカード: デュアルナノSIMカード
Micro SD: 非対応

---
ディスプレイ
カバーガラス: コーニングゴリラガラス
ディスプレイサイズ: 4.2インチ
解像度: 768 × 1280ピクセル
---
カメラ
リアカメラ: 48MP AF
フロントカメラ: 8MP FF
---
通信
Band: GSM (Band 2/3/5/8), WCDMA (Band 1/2/4/5/6/8/19), TDSCDMA (Band 34/39), FDD-LTE (Band 1/2/3/4/5/6/7/8/12/13/17/18/19/20/25/26/28A/28B/66), TDD-LTE (Band 34/38/39/40/41), CDMA2000 (Band BC0/BC1)
Wi-Fi: WLAN 802.11 a/b/g/n/ac 2.4GHz/5GHz Wi-Fiダイレクト、 Wi-Fiホットスポット
Bluetooth: Bluetooth 4.1
NFC: 対応
GPS: GPS + GLONASS + BeiDou
---
他の機能
センサー: 指紋(前面取付)、 G-センサー、 ジャイロ、 近接センサー、 環境光センサー、 コンパス
指紋: 対応
フェース認証: 対応
赤外線ポート: 対応
USB: USB Type C
USB OTG: 対応
プログラマブルキー: 対応
スピーカー: 対応
3.5mmヘッドフォンジャック: 非対応
ワイヤレス充電: 非対応
FMラジオ: 対応
---
Misc
カラー: ブラック
物理キーボード: QWERTYキーボード
SAR値 : Head SAR (EU): 0.285 W/kg, Body SAR (EU): 1.642 W/kg, Head SAR (US): 0.578 W/kg, Body SAR (US): 1.373 W/kg

---
Please check if your questions are in this FAQ list. If you have issues other than these, please contact service@unihertz.com for help.
While contacting customer support, please include the following information:
Your order number and IMEIs.
Videos/ images dipicting your problems (for a better diagnosis).
General Questions
#1 Where to find the IMEI number 1 and 2?
Go to Settings ->System ->About Phone ->IMEI number 1 and 2.
Look for the IMEIs on the box of the phone (if you still have it).
#2 How to update my phone?
Settings ->System ->About phone ->Wireless update.
#3 Why can't I receive the latest update on my phone?
Please follow these steps to clear cache before searching for the update again:
Settings -> App Notifications ->See all apps ->Show System (top right corner with 3 dots) ->Wireless update-> Clear Data and Cache
#4 How to erase my personal data/ factory reset my phone?
Reset to Factory Settings (When your phone cannot be turned on)
Power off your phone -> Press and hold the Power and Volume up buttons -> After your phone vibrates, keep holding the buttons for 5 seconds to enter Recovery mode -> Press the Volume up and down buttons to select the option to clear data or restore your device to its factory settings -> then press the Power button to confirm -> Reboot your phone
#5 How can I unlock my phone if I forgot my PIN or password??
If you have forgotten your phone password and want to unlock it, you will have to restore your device to its factory settings. Then you can set it up again and set a new screen lock.
However, all data on your phone will be erased and cannot be restored. It is recommended that you confirm whether you have backed up your phone data on the cloud or by other means. It is also recommended that you confirm whether you or someone else has changed the PIN/password. If you still cannot recall the password, refer to Question #4 to restore your device.
#6 How many keyboard languages does Titan and Titan Pocket support?
English, English(UK), German, French, Italian, Portuguese, Spanish, Russian, Dutch, Japanese, Simplified Chinese, Traditional Chinese(Zhuyin, Cangjie, Quick input).
For the keyboard input of other languages, we may consider adding them in the future if we receive enough demands.
On the other hand, Android system supports a wide range of languages, with which you will be able to turn on touch screen input as a supplement.
Telecom Compatibility
#1 How do I know if the phone can work with my SIM card in my country?
Please find the the phone's supported bands in product specs and check if those meet your sim-card carrier's needs or contact your carrier.
* Due to different carrier's policy regarding to unlocked phones, LTE wireless service may not be available even if listed bands are supported by your carrier. When this happens, please contact your carrier for more details.
#2 Is the phone compatible with Verizon?
Our phone can work fine in Verizon network. However, as it is not certified by Verizon, you cannot activate your new SIM card with it. Please activate the new SIM card with another Verizon certified device and then use it in your Unihertz phone.
Technical Issues (Problem Shooting)
#1 How to solve the problem of black screen when calling?
Please follow the guide to do a micro-calibration for your phone (you can also contact us for a video guide):
Please clear the dust in your proximity censor hole on top of your phone.
Input *#3377# in the Dial-up interface.
Click Distance calibration.
Follow the guide to finish the process.
#2 What to do when some of apps in my phone don't run in the background while the screen is off?
Please permit the apps to run in the background by activating them in the following three settings:
Settings ->DuraSpeed
Settings ->Intelligent assitance ->App blocker
Settings ->App&notification ->See all apps ->this app ->Battery ->Battery optimization and Background restriction->Don't optimize
You can also watch a video guide here.
#3 I have upgraded my smartphone to the latest Android OS, am I able to downgrade to the older version?
It is not advised to downgrade your smartphone since there might be compatibility issues.
#4 Why does my 4G SIM card display 3G after the setting?
Please contact your operator and check the APN parameters.
#5 Why can't I access the Internet and send MMS.
Please follow the steps here to set the APN.
#6 Why I can hear others but they can't hear me?
Go to Sound Recorder app and run a recording test.
Check whether your SIM card works well on the other phone.
#7 Why others can hear me but I can't hear them?
Please check if this only happened to some or all of friends you called.
Stay in the same location and insert your SIM card into another Android phone and the same issue arises.
Turn on call record in the call interface to record a call, then check whether the sound recorded is normal.
#8 Why my battery runs out so quickly?
Please send us a full screenshot of your battery usage in Settings ->battery ->battery usage.
Follow these steps to capture the battery log and send it to service@unihertz.com for further analysis.
Repair and Warranty
#1 When returning the phone back for analysis, do I have to send the accessories (such as charger and cable) back?
For repair, please send without the accessories.
For replacement or refund, please send with accessories in one package.
#2 Is broken glass issue covered by warranty? Can I replace the screen by myself?
The broken glass is not covered by warranty.
Please send send the smartphone back to us after negotiating with service@unihertz.com as we do not provide phone screen separatel. Repair or replacement fee may apply.
#3 Is my replaced phone covered by warrranty?
The repaired/ replaced device will get extra 90 days warranty or the remaining original warranty period, whichever is longer.
For me almost perfect :-)
I`m a previous owner of BB priv, key 1 and key2, so I know what I`m writing about:-). If you enjoy your new phone, it's normal to compare it to your old one.
For me, the problem at the beginning was the keyboard - it has a different layout than in bb k2, but I must admit that after a few days it was no longer a problem for me. second problem - narrow screen - but after a few days it's not a problem. What I can't get used to is the badly placed fingerprint scanner, which is at the top and when writing messages, I accidentally touch it and the phone exits the program (mail, messenger) and of course you have to restart the program. At this point, I must admit that the quality of the keyboard is exemplary. I type quite a lot on the keyboard and for 2 years in bbk2 I replaced the keyboard once and once fixed - standard - a problem with the space bar. Everything works fine in Titan.
For some, the disadvantage may be the lack of bT5.0 - which results in lower sound quality in headphones supporting the aptX and aptX HD protocols.
If there will be chance for Titan slim 2 definitely I will buy.
Good but not rugged
I've had all the Titan phones after having just about every other keyboard smart phone out there (Palm Pre, Pre3, BB Priv, Key1) and this is close to being just right but misses a couple things:
1. Made out of super-slippery glass, so slides off surfaces, out of your hand, etc. It does come with a case - use it. For a phone called Titan, it should still be somewhat rugged. The exterior glass on the back of mine is all cracked now - should have just put the damn case on but [I thought] then it's bigger and insulated so gets hotter (however, heat's never been an issue and it's not that much bigger), but it's so much better with the case on. Just keep the case on it!!!!
2. Battery not quite as good as the original Titan.
3. No Qi charging.
4. Delay from typing to the keyboard light coming on. Really should turn on at the first hint of maybe wanting to type.
I wish they would make one like the Priv - big screen and access to the keys when needed.
Titan Pocket user - I got my sanity back!
I was just so sick of touchscreen keyboards I was losing my mind with frustration. I saw this for the first time and flashbacks of an era where I loved my phone and worked with it not ON it -when I had a BlackBerry Bold.
Bless you for making this device! The Titan Pocket is the first phone since my Bold that I actually love using again! Now I just need to retrain my muscle memory for the BB keboard which seems to haver persisted at least 15 years past being used!