小型タフネススマートフォン - ポケットにタフネス&フィット
Atom14の紹介
Atomは、長さがわずか2.45インチの小型でコンパクトなスマートフォンで、手よりもさらに小さくなります。 それはきっとあなたのコインのポケットまたはハンドバッグに入れて、より多くのスペースを節約することができます!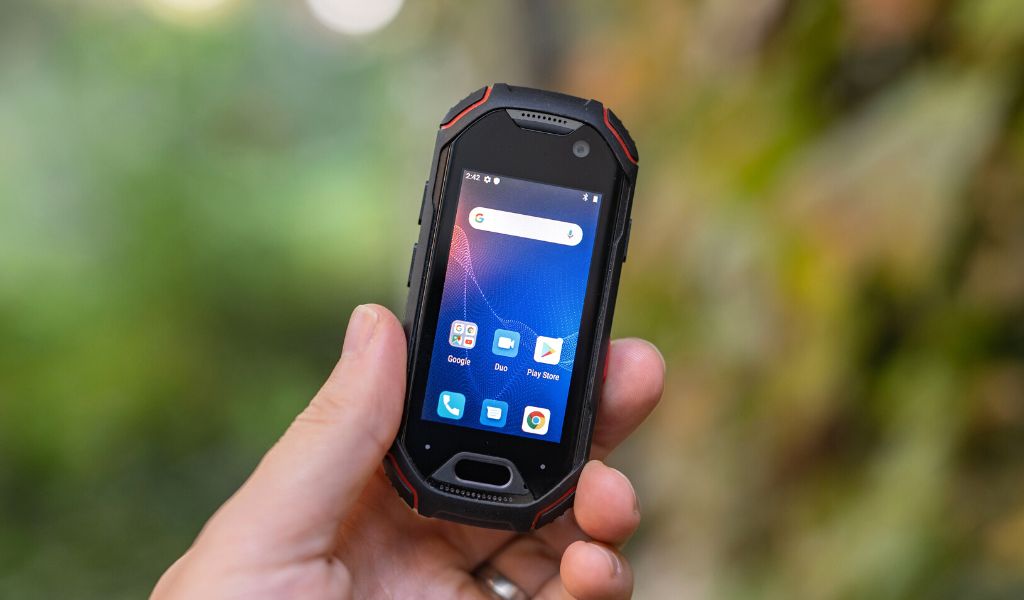 小さいが完全に機能している
Android OSを実行しているAtomは、Google Playストアで見つけることができるほとんどのアプリと互換性があります。 その小さなサイズにもかかわらず、Atomには、指紋解除、NFC、64Gストレージなど、日常生活に必要なほとんどすべての機能があります。
IP68認証タフネス4Gアウトドアスマホ
防水防塵耐衝撃で完璧な日常&アウトドアスマホ
指紋認証
素早くかつ安全でスマホをアンロック
2000MAH充電式バッテリー
サイズが小さいため、Atomは電力効率が高く、2000 MAH充電式バッテリーで長時間機能します。
アウトドア愛好家向けのテーラーメイド
コンパス、GPS、およびIP68認定に対するAtomのサポートは、より信頼性の高いポジショニングを保証します。 それは、オフロードやトレッキングエクスペリエンスのために、より信頼性の高いデバイスを必要とする冒険的な精神を持つ人々のために作られています。
スペック

内容物

Unihertz Atomスペック情報
---
基本情報
寸法:
96 × 45 × 18 mm
重さ:
108 g(バッテリーを含む)
CPU:
MT6763 オクタコア、 2.0GHz
OS:
Android 9.0
メモリー:
4GB + 64GB
バッテリー:
取外し不可2000 mAh
SIMカード:
デュアルナノSIMカード
Micro SD:
非対応
---
ディスプレイ
カバーガラス:
コーニングゴリラガラス
材質:
LCD
ディスプレイサイズ:
2.45インチ
解像度:
240 × 432ピクセル
---
カメラ
リアカメラ:
16MP AF
フロントカメラ:
8MP FF
---
通信
Band:
2G GSM (Band 2/3/5/8), 3G WCDMA (Band 1/2/4/5/8), 3G TDSCDMA (Band B34/39), 3G CDMA2000 (Band BC0/BC1), 4G FDD-LTE (Band 1/2/3/4/5/7/8/12/13/17/18/19/20/25/26/28A/28B), 4G TDD-LTE (Band 34/38/39/40/41)
Wi-Fi:
WLAN 802.11 a/b/g/n/ac 2.4GHz/5GHz Wi-Fiダイレクト、 Wi-Fiホットスポット
Bluetooth:
Bluetooth 4.1
NFC:
対応
GPS:
GPS + GLONASS
---
他の機能
センサー:
指紋(前面取付)、 G-センサー、 ジャイロ、 近接センサー、 環境光センサー、 コンパス
指紋:
対応
フェース認証:
対応
赤外線ポート:
非対応
USB:
USB Type C
USB OTG:
対応
プログラマブルキー:
対応
スピーカー:
対応
3.5mmヘッドフォンジャック:
対応
ワイヤレス充電:
非対応
FMラジオ:
対応
---
Misc
カラー:
ブラック
防水&防塵:
IP68 防水/防塵
耐衝撃:
対応
SAR値 :
Head SAR (EU): 0.775 W/kg, Body SAR (EU): 0.809 W/kg, Head SAR (US): 1.323 W/kg, Body SAR (US): 1.260 W/kg
---
内容物
Please check if your questions are in this FAQ list. If you have issues other than these, please contact service@unihertz.com for help.
While contacting customer support, please include the following information:
Your order number and IMEIs.
Videos/ images dipicting your problems (for a better diagnosis).
General Questions
#1 Where to find the IMEI number 1 and 2?
Go to Settings ->System ->About Phone ->IMEI number 1 and 2.
Look for the IMEIs on the box of the phone (if you still have it).
#2 How to update my phone?
Settings ->System ->About phone ->Wireless update.
#3 Why can't I receive the latest update on my phone?
Please follow these steps to clear cache before searching for the update again:
Settings -> App Notifications ->See all apps ->Show System (top right corner with 3 dots) ->Wireless update-> Clear Data and Cache
#4 How to erase my personal data/ factory reset my phone?
Reset to Factory Settings (When your phone cannot be turned on)
Power off your phone -> Press and hold the Power and Volume up buttons -> After your phone vibrates, keep holding the buttons for 5 seconds to enter Recovery mode -> Press the Volume up and down buttons to select the option to clear data or restore your device to its factory settings -> then press the Power button to confirm -> Reboot your phone
#5 How can I unlock my phone if I forgot my PIN or password??
If you have forgotten your phone password and want to unlock it, you will have to restore your device to its factory settings. Then you can set it up again and set a new screen lock.
However, all data on your phone will be erased and cannot be restored. It is recommended that you confirm whether you have backed up your phone data on the cloud or by other means. It is also recommended that you confirm whether you or someone else has changed the PIN/password. If you still cannot recall the password, refer to Question #4 to restore your device.
#6 How many keyboard languages does Titan and Titan Pocket support?
English, English(UK), German, French, Italian, Portuguese, Spanish, Russian, Dutch, Japanese, Simplified Chinese, Traditional Chinese(Zhuyin, Cangjie, Quick input).
For the keyboard input of other languages, we may consider adding them in the future if we receive enough demands.
On the other hand, Android system supports a wide range of languages, with which you will be able to turn on touch screen input as a supplement.
Telecom Compatibility
#1 How do I know if the phone can work with my SIM card in my country?
Please find the the phone's supported bands in product specs and check if those meet your sim-card carrier's needs or contact your carrier.
* Due to different carrier's policy regarding to unlocked phones, LTE wireless service may not be available even if listed bands are supported by your carrier. When this happens, please contact your carrier for more details.
#2 Is the phone compatible with Verizon?
Our phone can work fine in Verizon network. However, as it is not certified by Verizon, you cannot activate your new SIM card with it. Please activate the new SIM card with another Verizon certified device and then use it in your Unihertz phone.
Technical Issues (Problem Shooting)
#1 How to solve the problem of black screen when calling?
Please follow the guide to do a micro-calibration for your phone (you can also contact us for a video guide):
Please clear the dust in your proximity censor hole on top of your phone.
Input *#3377# in the Dial-up interface.
Click Distance calibration.
Follow the guide to finish the process.
#2 What to do when some of apps in my phone don't run in the background while the screen is off?
Please permit the apps to run in the background by activating them in the following three settings:
Settings ->DuraSpeed
Settings ->Intelligent assitance ->App blocker
Settings ->App&notification ->See all apps ->this app ->Battery ->Battery optimization and Background restriction->Don't optimize
You can also watch a video guide here.
#3 I have upgraded my smartphone to the latest Android OS, am I able to downgrade to the older version?
It is not advised to downgrade your smartphone since there might be compatibility issues.
#4 Why does my 4G SIM card display 3G after the setting?
Please contact your operator and check the APN parameters.
#5 Why can't I access the Internet and send MMS.
Please follow the steps here to set the APN.
#6 Why I can hear others but they can't hear me?
Go to Sound Recorder app and run a recording test.
Check whether your SIM card works well on the other phone.
#7 Why others can hear me but I can't hear them?
Please check if this only happened to some or all of friends you called.
Stay in the same location and insert your SIM card into another Android phone and the same issue arises.
Turn on call record in the call interface to record a call, then check whether the sound recorded is normal.
#8 Why my battery runs out so quickly?
Please send us a full screenshot of your battery usage in Settings ->battery ->battery usage.
Follow these steps to capture the battery log and send it to service@unihertz.com for further analysis.
Repair and Warranty
#1 When returning the phone back for analysis, do I have to send the accessories (such as charger and cable) back?
For repair, please send without the accessories.
For replacement or refund, please send with accessories in one package.
#2 Is broken glass issue covered by warranty? Can I replace the screen by myself?
The broken glass is not covered by warranty.
Please send send the smartphone back to us after negotiating with service@unihertz.com as we do not provide phone screen separatel. Repair or replacement fee may apply.
#3 Is my replaced phone covered by warrranty?
The repaired/ replaced device will get extra 90 days warranty or the remaining original warranty period, whichever is longer.
Unihertz Atom, a pocket gem!
The Unihertz Atom is a pocket marvel, as it manages to have the function of a capable smartphone in a tiny form factor. You get a great, pocketable device that has good performance. 4gb of ram and a helio p23 processor make this device very snappy. Because the screen is so small (about 2.4") it doesn't need a lot of processing power to render the pixels on screen.
Everything works as it should, the phone is running android oreo, so is fairly up to date. It has 64gb storage (no micro SD card support sadly, but the 64gb is nice in this price range). The phone is running virtually stock android, with a few additional apps added by Unihertz, which are ideal for outdoor working or activities (It is a rugged phone after all).
The phone has a 2000mah battery. This battery while not amazing, should get you through a day and possibly two or more days if you are a frugal user. The most I managed was 4 days, but that requires you to switch off a lot of background apps and put the phone in battery saver mode and airplane mode overnight. Over two days with moderate to heavy usage I was able to get about 6 hours screen on time. The battery was down to about 8% at that point. The problem is the phone loses a fair bit of charge in standby. You can mitigate this by turning WiFi and/or mobile data off when you're not using it and turning on the battery saver. Overall I think the battery life is decent especially considering the battery capacity. It also charges quite quickly. At just over an hour for me from 15%-100% using the supplied charger. (I didn't get a three pin adapter with the phone, but bought a 3 pin travel adapter that works fine.)
The camera is probably the phone's weakest point, although I use it all the time. You can get quite decent pictures from the camera in good light. It's also quite fast at taking the picture. HDR mode really helps with landscape shots, making the colours pop. Or you can use your favourite image editing app to adjust the colours later. I use Snapseed for this. The camera sometimes has a focusing issue where the picture or video looks blurry. When this happens it best to re-adjust the angle until the image in the camera viewer looks clearer. Low light images are not great so avoid taking pictures in these conditions if you can. You also need to try and keep your hands steady as it will blur the picture otherwise.
Video can also can good as long as the lighting is sufficient and you check for any blurry focusing issues. The biggest problem with capturing video is the lack of image stabilization, so you will need steady hands to avoid a jerky video. If the video isn't too shaky, you can improve it by using the stabilise feature in the Google Photos app.
Despite the camera's faults, because of the phone's small size, it is convenient to take out of your pocket and take a quick photo or video at a moment's notice. I don't think the camera is terrible, because you can get some really nice pictures. It's just getting used to the quirks. (See some of my pictures attached)
The rear mounted speaker on this phone is actually quite loud. I was surprised how loud it goes! It can sound a bit tinny at high volumes, but you should have no problem hearing it in noisy environments. The phone also has a headphone jack which is very useful if you only have wired headphones or require an aux connection to a speaker or car sound system.
Phone calls sounded clear enough to me and WiFi is generally reliable. The phone is 4g capable and works well for me using an ee SIM. I did notice the phone heats up quite a bit when using mobile data for a while, so you might want to be careful leaving mobile data enabled for long periods.
Gaming is certainly possible on this phone, but the tiny screen makes it very hard to play games effectively. I stick to the ones requiring few onscreen controls. Crashy Cats is one I play a lot and while it is a bit harder to see what's going on, you do get used to it.
The keyboard is also tiny, so expect to make a few typos when using it. You do get used to it with time, or you can use swipe gesture keyboard controls or even voice controls using the Google assistant. It might also help you to put the phone in landscape mode while typing, as the keys will be spaced wider apart.
Fingerprint and face unlock are the two main security methods. I have set up both. The fingerprint scanner is great when it works, but often doesn't, I think because it just too small for your finger. I use my thumbs to unlock and the successe rate is about 6/10. Face unlock is quite reliable, but the default use requires you to first press the power button and then look at the screen to unlock. You can't unlock the phone when the display is off using this method, whereas you can with the fingerprint sensor.
I like the fact that the phone has notification LEDs. You can change these in the settings and have a red, blue or green light for different notifications. I found that reall...
Liked it till it fell apart
Fun phone, pretty good conversation starter especially when using google-pay, before that everyone thinks its a dumb phone. Also gives you a pretty good reason to not be quick texting back and
Used it for about a year till the side rubber started disconnecting from the plastic casing, didn't glue back down very well and the glue blocked the sim tray. In attempting to re-open it the sim tray broke making the phone unusable as I couldn't find a similar sized simtray anywhere online. Pretty sad was a great phone till that point
Jail Phone
This will surely become the most popular jail phone for all the top dogs.