Tank - 22000mAh Largest Battery 4G Rugged Smartphone
Tank, a Versatile Rugged Outdoor Smartphone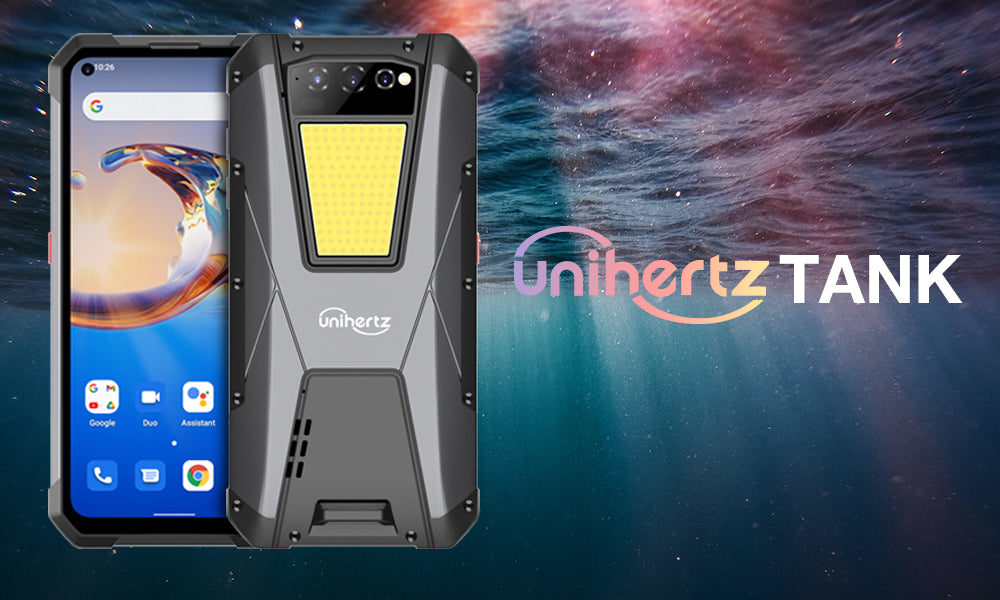 A Multi-Use Device Designed for Outdoor Use
The Unihertz Tank is a cutting-edge rugged 4G smartphone that can withstand harsh environments while still retaining the incredible technology and features built into modern smartphones.
Massive 22000mAh Battery for an Insane Battery Life
The enormous 22000mAh battery on Tank offers a decent battery life. It's enough to keep your device alive for one week with regular use, allowing you to stay productive without battery anxiety.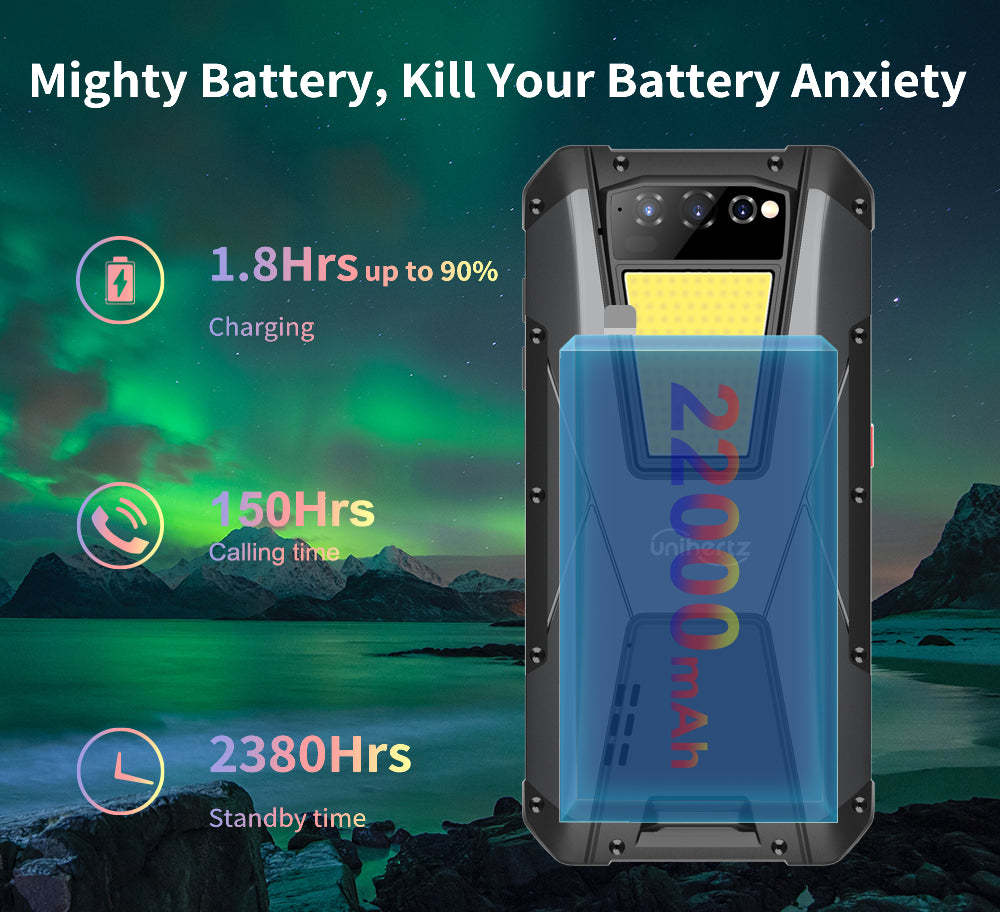 * Battery tests are conducted by Unihertz Tech Lab.
* All battery claims depend on the cellular network, location, signal strength, feature configuration, usage, and many other factors; actual results will vary.
OTG Function for Reverse Charging
In case of an emergency, Tank can also be used as a power bank to charge other devices.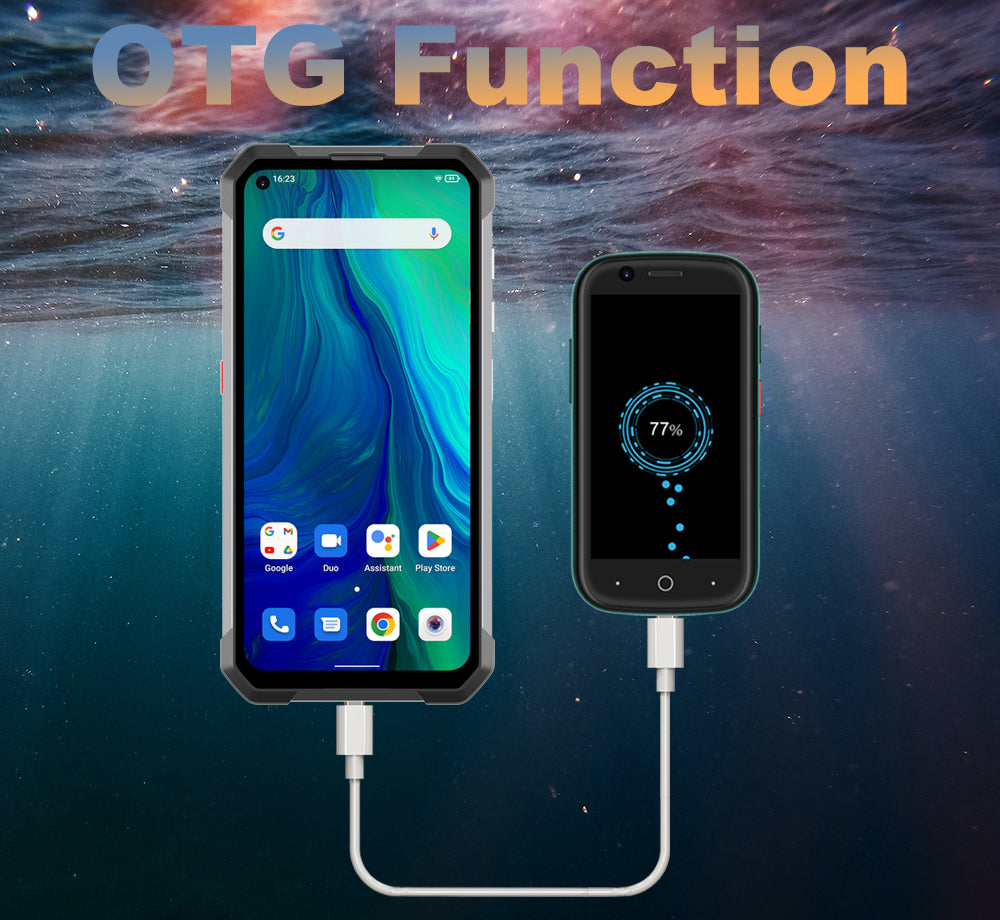 Juice up Your Tank in No Time
It just takes 1.8 hours to charge Tank to 90% thanks to its 66W rapid charging capacity, which makes it the perfect choice for individuals who need power in a hurry.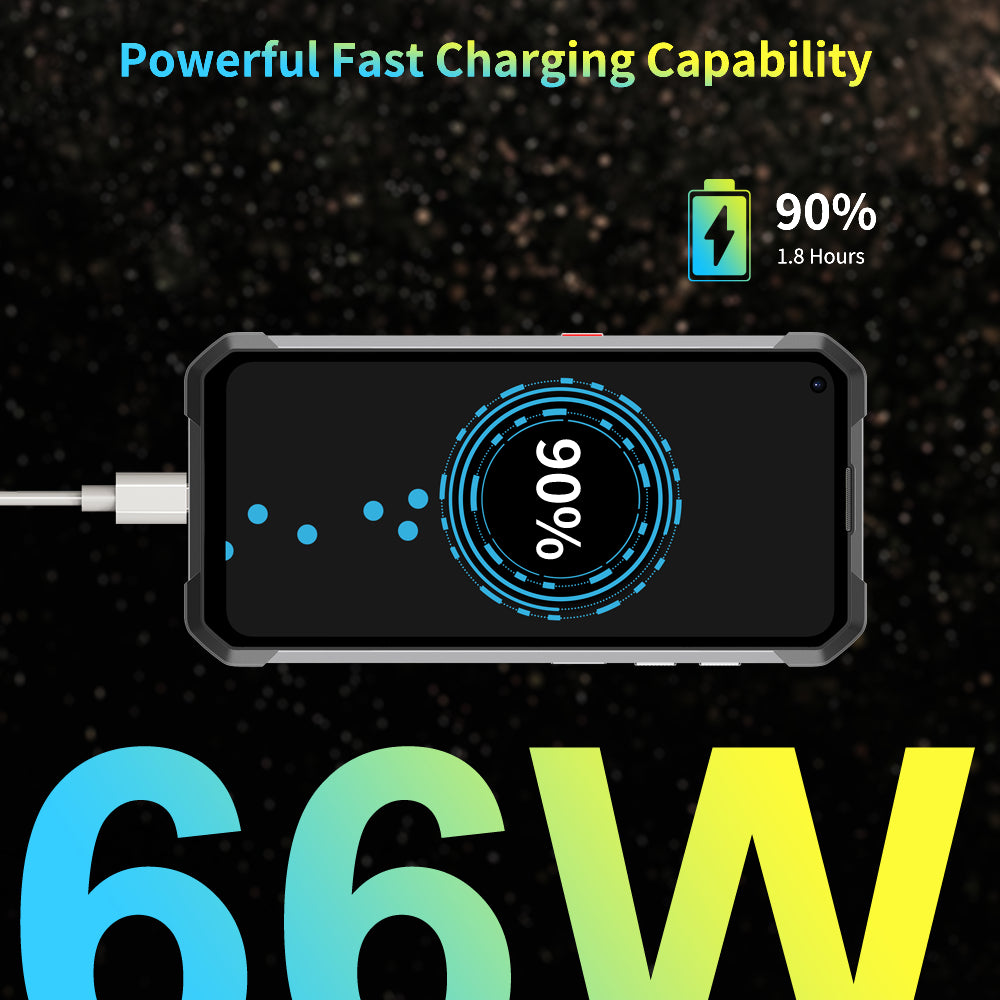 High-Powered 1200-Lumen Camping Light on the Back
Tank provides 5 modes for you to use the high-powered 1200-lumen camping light whether you are in an emergency or you simply want to illuminate the night. But keep in mind that the light is too bright to look at it directly!
Capture Breathtaking Moments With Tank
Tank is equipped with a 108MP AI camera, a 32MP front camera, a 20MP night vision camera, and a 2MP macro camera. The four cameras allow for wide-angle, macro, and night vision features. It can even capture 4K videos. So when you're out adventuring, you can capture those breathtaking moments on a single device.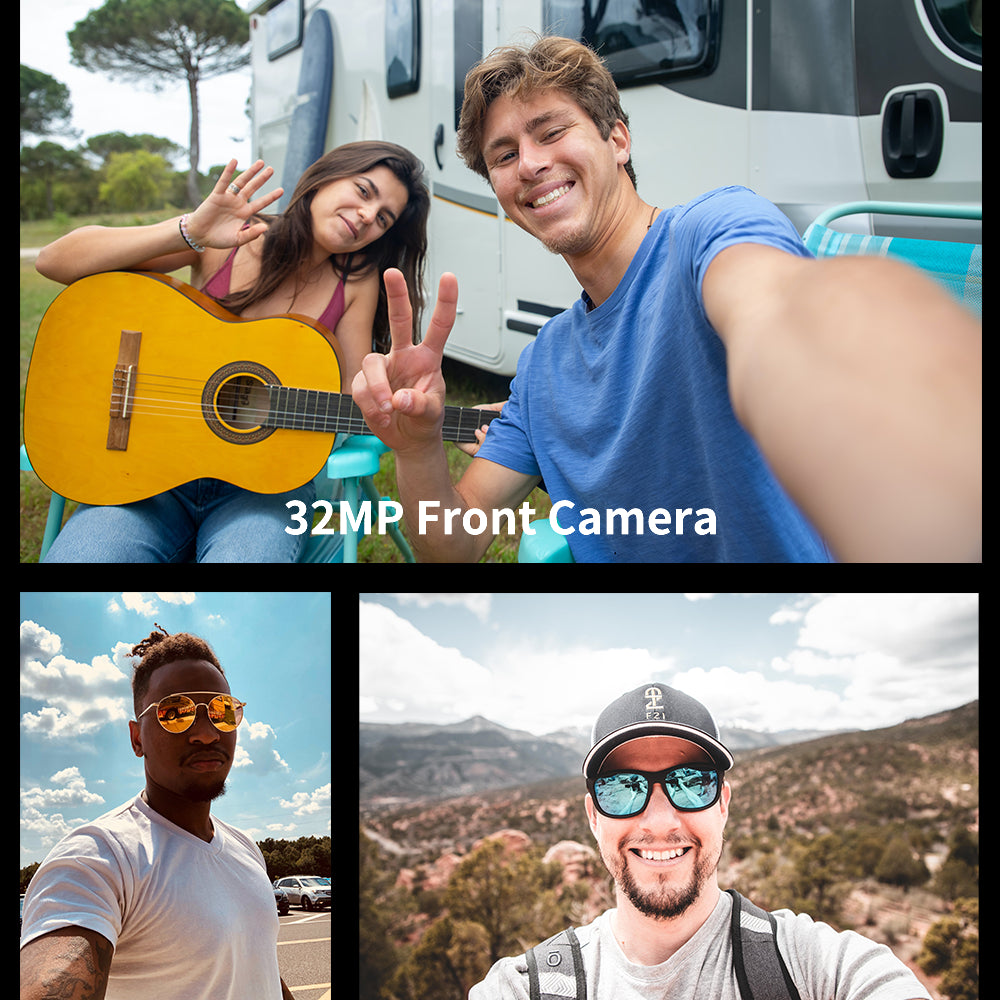 Built for the Most Demanding Use
Tank offers extreme durability to outdoor use cases. It can suffice all your needs even when you're exposed to harsh environments. IP68 certified and military requirements fulfilled, it's drop-, dust-, and water-resistant to survive high temperatures, shocks, and more.
Fingerprint & Face Unlock
When you're trekking through difficult terrain, it's simple enough to access and unlock your device since Tank has a side fingerprint sensor and facial recognition. This means you can access calls and messages even when you're kitted out for an adventure.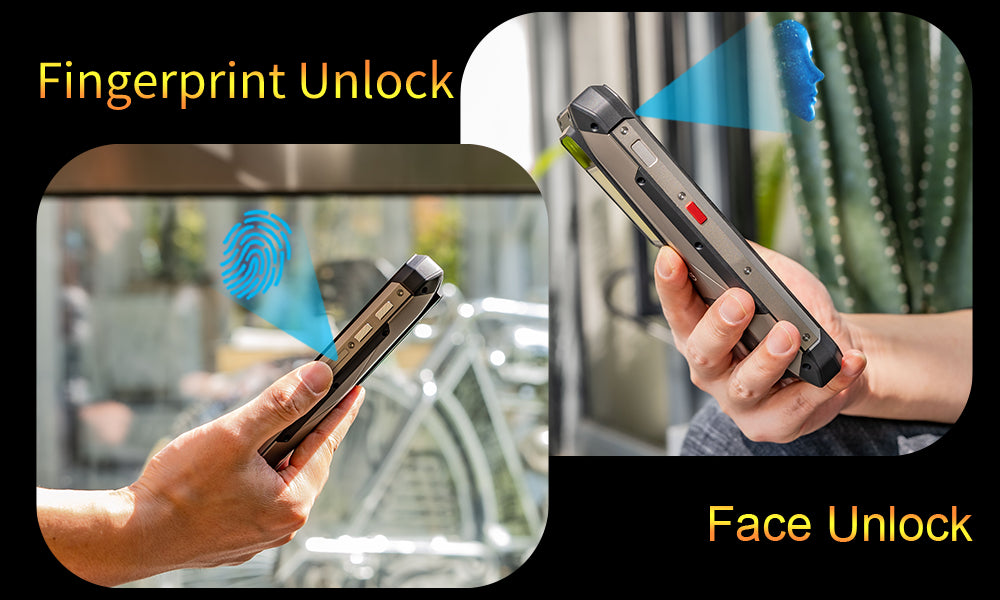 Large Storage Capacity & Powerful Processor
Tank has a large storage capacity of 12 GB RAM and 256 GB ROM for storing your precious memories. The MediaTek MT6789 processor offers an extraordinary experience with its high performance in AI, gaming, and connectivity.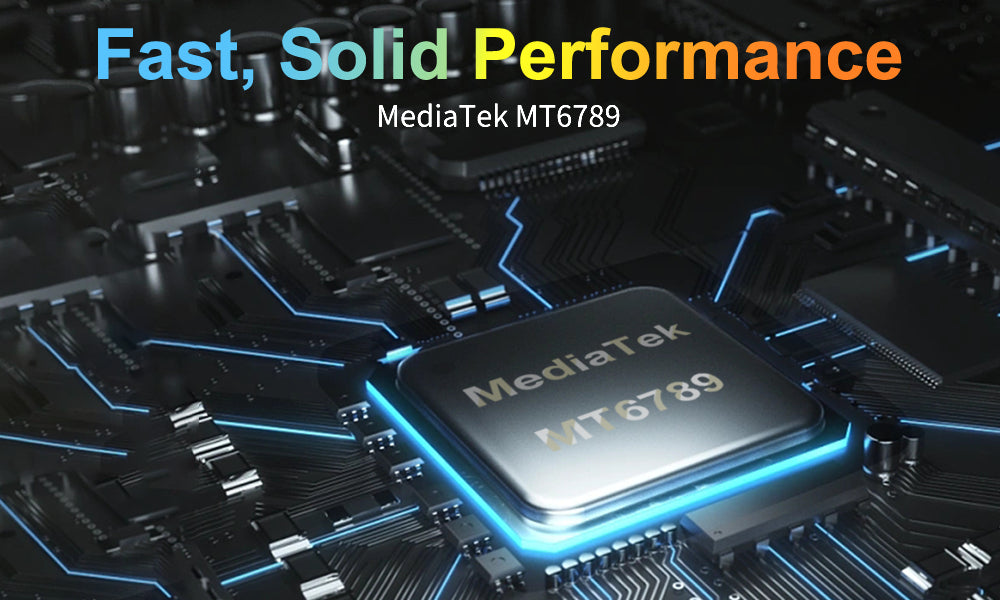 Virtual Toolbox
The toolbox comes with valuable tools such as a compass, magnifier, pedometer, protractor, etc., to help you out when any emergency occurs.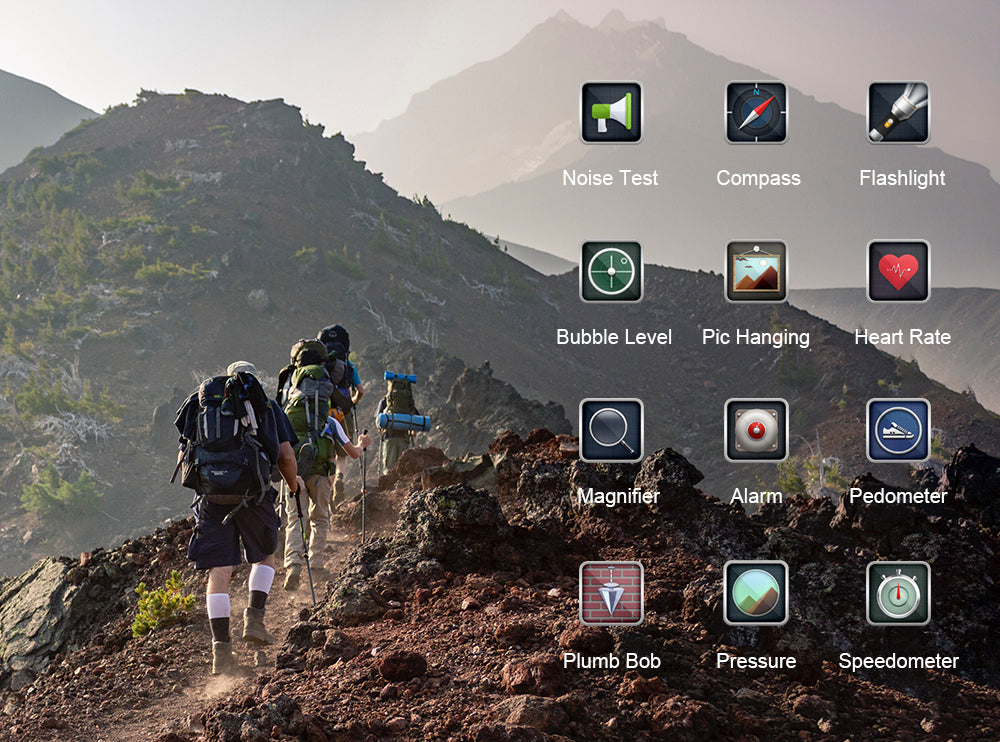 Unihertz Tank Specifications
---
Basic Information
Dimensions:
175.6 × 85.30 × 23.9 mm
Weight:
560 g (With Battery)
CPU:
MT6789 Octa-Core 2.0-2.2GHz
OS:
Android 12
Memory:
12GB + 256GB UFS 2.2
Battery:
Non-Removable 22000mAh Battery
Charge Rate:
66W
SIM Card Type:
Dual Nano SIM Card
Micro SD:
No
---
Display
Cover Glass:
Panda MN228 Glass
Material:
LCD
Display Size:
6.81 inches
Resolution:
2400 × 1080 pixels
---
Camera
Rear Camera:
108MP Main Camera + 20MP Night Vision Camera
Front Camera:
32MP
---
Connectivity
Band:
2G GSM (Band 2/3/5/8), 3G WCDMA (Band 1/2/4/5/6/8), 3G CDMA2000 (Band BC0/BC1), 4G FDD-LTE (Band 1/2/3/4/5/7/8/12/13/17/18/19/20/25/26/28A/28B/66), 4G TDD-LTE (Band 34/38/39/40/41)
Wi-Fi:
WLAN 802.11 a/b/g/n/ac 2.4GHz/5GHz, Wi-Fi Direct, WI-FI Display, Wi-Fi Hotspot(V2.0)
Bluetooth:
Bluetooth 5.3
NFC:
Yes
GPS:
GPS + GLONASS + BeiDou + Galileo
---
Features
Sensors:
Fingerprint, G-Sensor, Gyroscope, Proximity, Ambient Light Sensor, Compass, Baroceptor
Fingerprint:
Yes
Facial Recognition:
Yes
Infrared Port:
Yes
USB:
USB Type C
USB OTG:
Yes
Programmable Key:
Yes
Loudspeaker:
Yes
3.5mm Headphone Jack:
Yes
Wireless Charging:
No
FM Radio:
Yes
---
Misc
Color:
Black
Splash, Water & Dust Resistant:
Yes
Shock Resistant:
Yes
SAR Value:
Head SAR (EU): 0.155 W/kg, Body SAR (EU): 0.683 W/kg, Head SAR (US): 0.227 W/kg, Body SAR (US): 0.793 W/kg
---
In the Box
Please check if your questions are in this FAQ list. If you have issues other than these, please contact service@unihertz.com for help.
While contacting customer support, please include the following information:
Your order number and IMEIs.
Videos/ images dipicting your problems (for a better diagnosis).
General Questions
#1 Where to find the IMEI number 1 and 2?
Go to Settings ->System ->About Phone ->IMEI number 1 and 2.
Look for the IMEIs on the box of the phone (if you still have it).
#2 How to update my phone?
Settings ->System ->About phone ->Wireless update.
#3 Why can't I receive the latest update on my phone?
Please follow these steps to clear cache before searching for the update again:
Settings -> App Notifications ->See all apps ->Show System (top right corner with 3 dots) ->Wireless update-> Clear Data and Cache
#4 How to erase my personal data/ factory reset my phone?
Reset to Factory Settings (When your phone cannot be turned on)
Power off your phone -> Press and hold the Power and Volume up buttons -> After your phone vibrates, keep holding the buttons for 5 seconds to enter Recovery mode -> Press the Volume up and down buttons to select the option to clear data or restore your device to its factory settings -> then press the Power button to confirm -> Reboot your phone
#5 How can I unlock my phone if I forgot my PIN or password??
If you have forgotten your phone password and want to unlock it, you will have to restore your device to its factory settings. Then you can set it up again and set a new screen lock.
However, all data on your phone will be erased and cannot be restored. It is recommended that you confirm whether you have backed up your phone data on the cloud or by other means. It is also recommended that you confirm whether you or someone else has changed the PIN/password. If you still cannot recall the password, refer to Question #4 to restore your device.
#6 How many keyboard languages does Titan and Titan Pocket support?
English, English(UK), German, French, Italian, Portuguese, Spanish, Russian, Dutch, Japanese, Simplified Chinese, Traditional Chinese(Zhuyin, Cangjie, Quick input).
For the keyboard input of other languages, we may consider adding them in the future if we receive enough demands.
On the other hand, Android system supports a wide range of languages, with which you will be able to turn on touch screen input as a supplement.
Telecom Compatibility
#1 How do I know if the phone can work with my SIM card in my country?
Please find the the phone's supported bands in product specs and check if those meet your sim-card carrier's needs or contact your carrier.
* Due to different carrier's policy regarding to unlocked phones, LTE wireless service may not be available even if listed bands are supported by your carrier. When this happens, please contact your carrier for more details.
#2 Is the phone compatible with Verizon?
Our phone can work fine in Verizon network. However, as it is not certified by Verizon, you cannot activate your new SIM card with it. Please activate the new SIM card with another Verizon certified device and then use it in your Unihertz phone.
Technical Issues (Problem Shooting)
#1 How to solve the problem of black screen when calling?
Please follow the guide to do a micro-calibration for your phone (you can also contact us for a video guide):
Please clear the dust in your proximity censor hole on top of your phone.
Input *#3377# in the Dial-up interface.
Click Distance calibration.
Follow the guide to finish the process.
#2 What to do when some of apps in my phone don't run in the background while the screen is off?
Please permit the apps to run in the background by activating them in the following three settings:
Settings ->DuraSpeed
Settings ->Intelligent assitance ->App blocker
Settings ->App&notification ->See all apps ->this app ->Battery ->Battery optimization and Background restriction->Don't optimize
You can also watch a video guide here.
#3 I have upgraded my smartphone to the latest Android OS, am I able to downgrade to the older version?
It is not advised to downgrade your smartphone since there might be compatibility issues.
#4 Why does my 4G SIM card display 3G after the setting?
Please contact your operator and check the APN parameters.
#5 Why can't I access the Internet and send MMS.
Please follow the steps here to set the APN.
#6 Why I can hear others but they can't hear me?
Go to Sound Recorder app and run a recording test.
Check whether your SIM card works well on the other phone.
#7 Why others can hear me but I can't hear them?
Please check if this only happened to some or all of friends you called.
Stay in the same location and insert your SIM card into another Android phone and the same issue arises.
Turn on call record in the call interface to record a call, then check whether the sound recorded is normal.
#8 Why my battery runs out so quickly?
Please send us a full screenshot of your battery usage in Settings ->battery ->battery usage.
Follow these steps to capture the battery log and send it to service@unihertz.com for further analysis.
Repair and Warranty
#1 When returning the phone back for analysis, do I have to send the accessories (such as charger and cable) back?
For repair, please send without the accessories.
For replacement or refund, please send with accessories in one package.
#2 Is broken glass issue covered by warranty? Can I replace the screen by myself?
The broken glass is not covered by warranty.
Please send send the smartphone back to us after negotiating with service@unihertz.com as we do not provide phone screen separatel. Repair or replacement fee may apply.
#3 Is my replaced phone covered by warrranty?
The repaired/ replaced device will get extra 90 days warranty or the remaining original warranty period, whichever is longer.
Avis après plusieurs mois
- La taille me faisait un peu peur mais je m'y suis très vite fait.
- Coté autonomie/recharge, lampe, vision nocturne rien à dire, les attentes sont respectées.
- Mon bouton volume up ne marche plus (défaut de fabrication ?), c'est dommage mais gérable sans problème (volume down + slide)
- Stabilisation photo/vidéo à améliorer un peu trop faible à mon goût.
Très content du rapport ensemble/prix (mon 1er rugged phone pas déçu)
Vergesst iPhone 18 pro max and Samsung S 28 Ultra, hier ist die echte Zukunft
Es gibt viele Erklārungen und Videos die Produkte hochleben oder vernichtende Kritiken darüber schreiben um vielleicht etwas Reichweite, Aufmerksamkeit oder einfach ein Produkt zu verkaufen.
Dagegen bich ich ein einfacher Kunde, der nur ein zuverlãssiges Smartphone gesucht hat, was auch in Notsituationen zuverlãssig funktioniert.
Das habe ich im Unihertz Tank vorgefunden.
Es ist super robust.
Wasserdicht, Staubdicht.
Hat eine wirklich starke Lampe auf der Rückseite verbaut.
Nachtsicht Funktion.
Einen Großen Bildschirm.
Viele praktische Werkzeuge.
Und vor allem Dingen,die größte Ausdauer die je ein Smartphone bis heute hatte!
Im Alltag der grösste Vorteil der wirklich und effektiv zãhlt.
Das Gewicht ist auch kein Nachteil, in manchen Situationen sogar von Vorteil, nach ein paar Tagen hat man sich daran gewöhnt und will es nicht mehr missen.
Klar fehlt mir die Wãrmebildkamera Funktion, aber Unihertz arbeitet sicherlich schon daran.
Und zukünftig wird auch ein iPhone 18 oder Samsung S 28 Ultra im Alltag, dem Tank das Wasser nicht reichen können.
Very Good
I would love to see another option with a speaker instead of the big flashlight and reverse charging would also be cool to have