Atom XL - 4-Inch Walkie-Talkie Rugged Smartphone
Cerified by

Rugged Compact Smartphone with a DMR Walkie-Talkie
Atom XL is a small compact smartphone with a DMR walkie-talkie. The 4-inch display of Atom XL makes it simple to operate with only one hand. Say goodbye to the hassle of large mobile phones!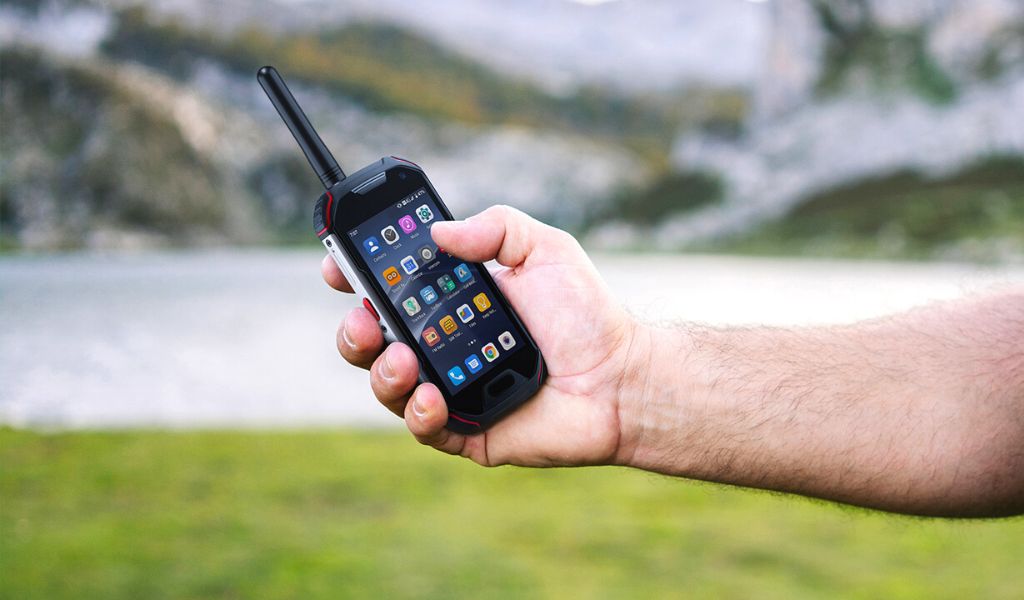 Use the Walkie-Talkie Features!
You can use Atom XL for up to 2KM of walkie-talkie connection without relying on the Internet connection! Connect freely with your friends who use another Atom XL or a walkie-talkie in a variety of circumstances such as terrain, topography, jungle, desert, rainforest, sea, or mountains.
The Walkie-Talkie Feature
Up to 2KM connection, under diverse circumstances.
DMR UHF band (400-480MHz)  DMR and Analog compatible radio.
DMR Tier 1 & 2 compatible.
Dual slot DMR radio.
Programmable preset channel group.
High/low power settings (2W, 0.5W).
Dedicated PTT key.
Voice record and replay function.
Firmware is updatable on the air.
Support talk with a Bluetooth headset or wired headset.
Text messages Tx/Rx.
Durable & Tough in Extreme Conditions: IP68 Rating
Thanks to an enhanced IP68 rating that is water-, dust-, and shock-resistant, as well as meeting US Military Standard MIL-STD-810G certification, the Atom XL is at ease in a variety of extreme environments and prepared for any situation. Its shell is designed to protect the phone from all sides.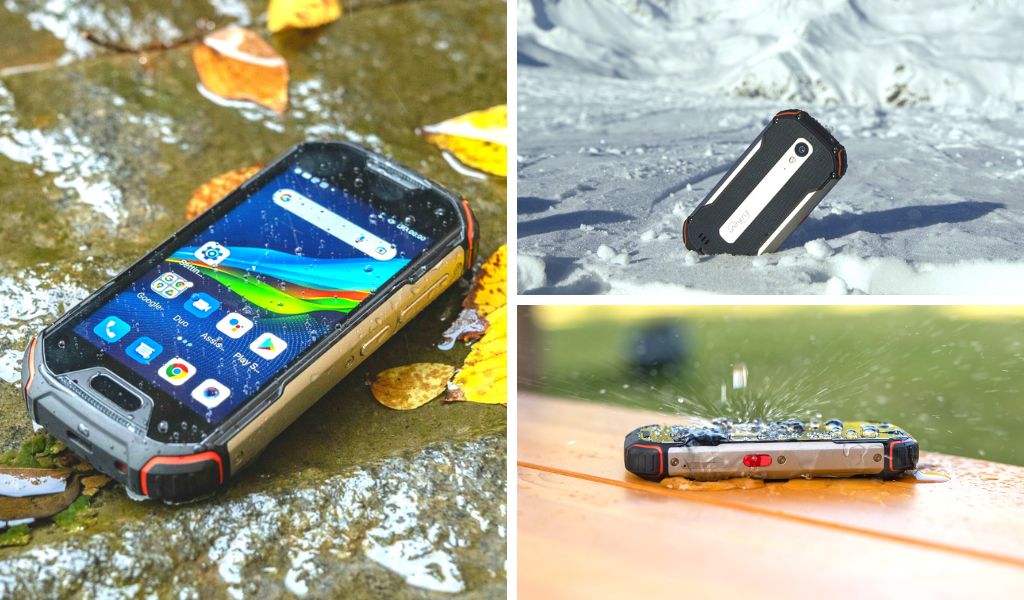 Powerful 4300mAh Fast Charging Battery
With the massive 4300mAh battery of Atom XL, you can use it continuously for more than 24 hours. It can charge two times more quickly than typical phones thanks to its fast-charging features.
48MP Rear Camera
The 48MP rear camera of Atom XL captures more without compromising quality, enabling you to shoot excellent photos with sharpness and vibrant color.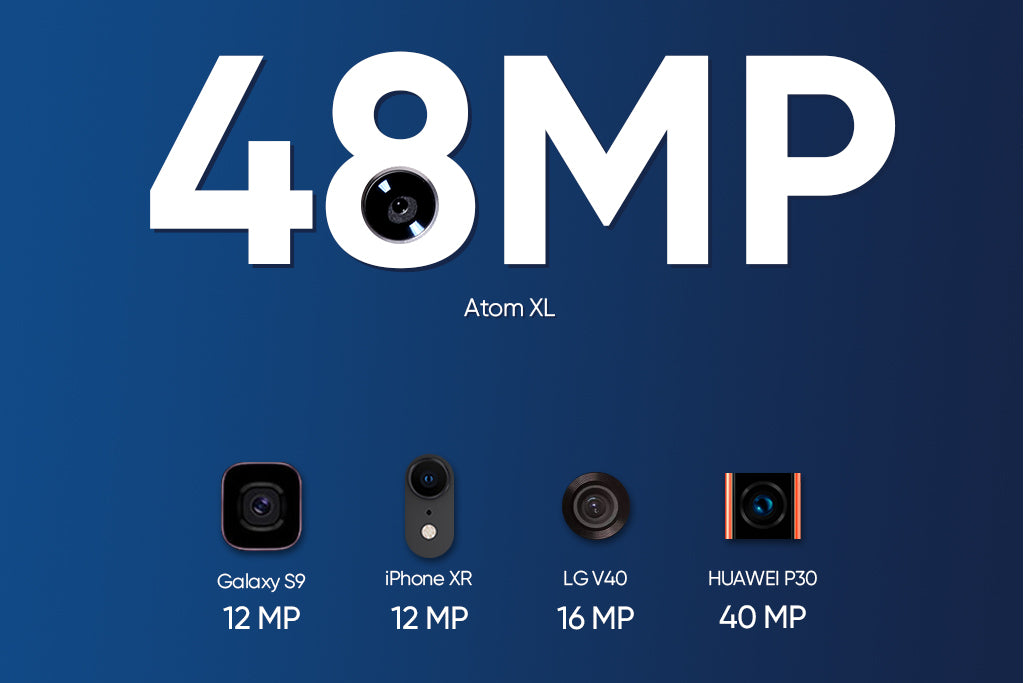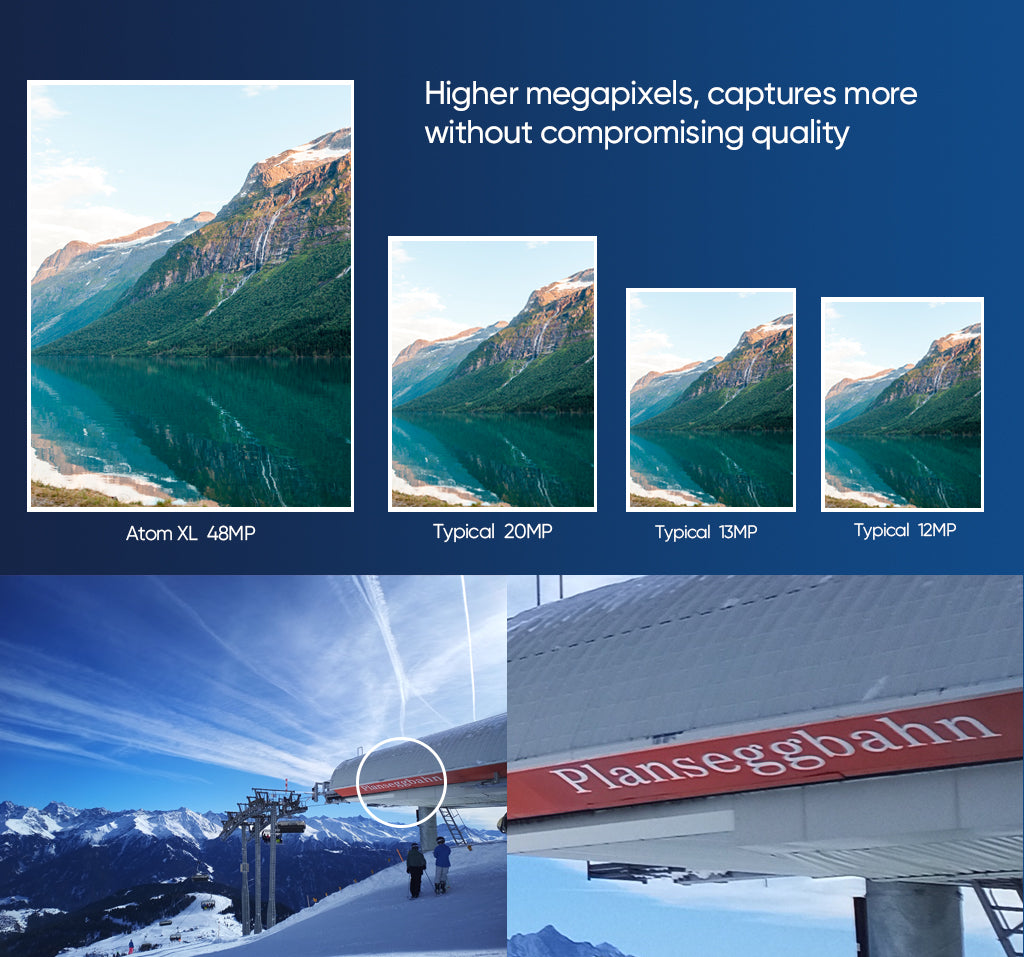 Tailor-Made for Outdoor Enthusiasts
The Atom XL's support for 3 navigational satellites (GPS, BeiDou, and GLONASS) in addition to its large battery and IP68 certification, guarantees faster and more reliable positioning. It is made for people with an adventurous spirit who need more reliable devices for off-road and trekking experiences.
Android 11 OS
Atom XL, which runs Android 11 OS, is compatible with the vast majority of apps available in the Google Play Store. You can also copy apps and data from your old device without any barriers.
Dual SIM Card
Atom XL comes with a dual SIM card slot, with which you are free to insert two SIM cards and use them simultaneously.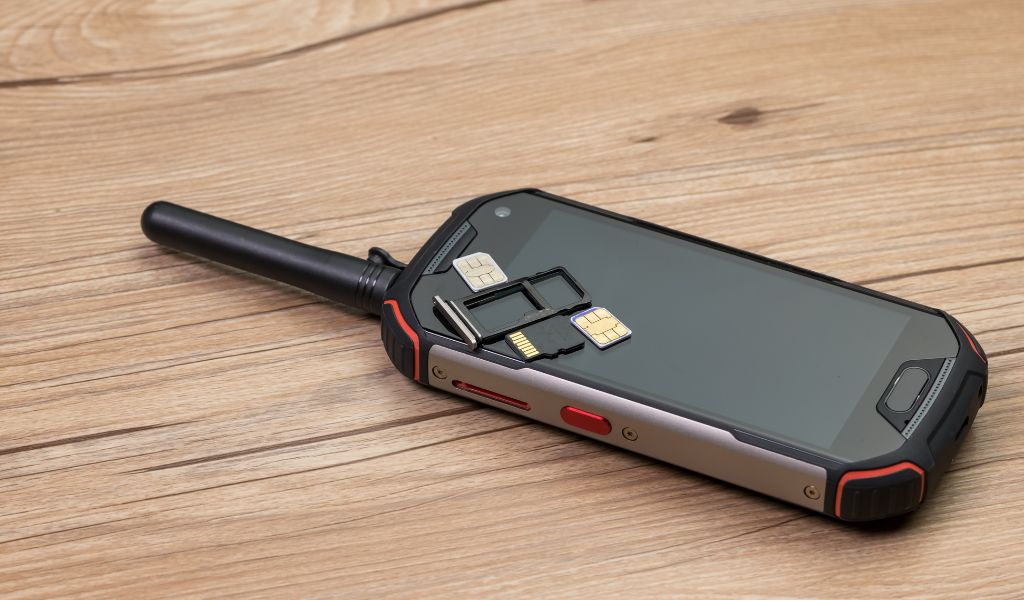 Dimensions

Unihertz Atom XL Specifications
---
Basic Information
Dimensions:
134.5 × 65 × 17.5 mm
Weight:
224.5 g (With Battery)
CPU:
Helio P60 Octa-Core, 2.0GHz
OS:
Android 11
Memory:
6GB + 128GB UFS 2.1
Battery:
Non-Removable 4300 mAh
Charge Rate:
18W
SIM Card Type:
Dual Nano SIM Card
Micro SD:
Yes
Card Slot:
SIM 1 + Hybrid (SIM or Micro SD)
---
Display
Cover Glass:
Corning Gorilla Glass
Material:
LCD
Display Size:
4.0 inches
Resolution:
1136 × 640 pixels
---
Camera
Rear Camera:
48MP AF
Front Camera:
8MP FF
---
Connectivity
Band:
2G GSM (Band 2/3/5/8), 3G WCDMA (Band 1/2/4/5/6/8/19), 3G CDMA2000 (Band BC0/BC1), 4G FDD-LTE (Band 1/2/3/4/5/6/7/8/12/13/17/18/19/20/25/26/28A/28B/66), 4G TDD-LTE (Band 34/38/39/40/41)
Wi-Fi:
WLAN 802.11 a/b/g/n/ac 2.4GHz/5GHz, Wi-Fi Direct, Wi-Fi Hotspot
Bluetooth:
Bluetooth 5.1
NFC:
Yes
Navigation:
GPS + GLONASS + BeiDou
---
Features
Sensors:
Fingerprint (Front-Mounted), G-Sensor, Gyroscope, Proximity, Ambient Light Sensor, Compass, Baroceptor
Fingerprint:
Yes
Facial Recognition:
Yes
Infrared Port:
Yes
USB:
USB Type C
USB OTG:
Yes
Programmable Key:
Yes
Loudspeaker:
Yes
3.5mm Headphone Jack:
Yes
Wireless Charging:
No
FM Radio:
Yes
---
Misc
Color:
Black
Splash, Water & Dust Resistant:
IP68 Water / Dust Resistant
Shock Resistant:
Yes
Walkie Talkie:
DMR Walkie Talkie (Only Available in Atom XL Model)
SAR Value:
Head SAR (EU) : 0.462 W/kg, Body SAR (EU) : 0.550 W/kg, Head SAR (US) : 0.668 W/kg, Body SAR (US) : 0.466 W/kg
---
Certification
---
In the Box
GENERAL QUESTIONS
Where to find the IMEI number 1 and 2?
1. Go to Settings ->System ->About Phone ->IMEI number 1 and 2.
2. Look for the IMEIs on the box of the phone (if you still have it).
How to update my phone?
Settings ->System ->About phone ->Wireless update
Why can't I receive the latest update on my phone?
Please follow these steps to clear cache before searching for the update again:
Settings -> App Notifications ->See all apps ->Show System (top right corner with 3 dots) ->Wireless update-> Clear Data and Cache
How to erase my personal data/ factory reset my phone?
How can I unlock my phone if I forgot my PIN or password?
If you have forgotten your phone password and want to unlock it, you will have to restore your device to its factory settings. Then you can set it up again and set a new screen lock.
However, all data on your phone will be erased and cannot be restored. It is recommended that you confirm whether you have backed up your phone data on the cloud or by other means. It is also recommended that you confirm whether you or someone else has changed the PIN/password. If you still cannot recall the password, refer to last Question to restore your device.
How many keyboard languages does Titan and Titan Pocket support?
English, English(UK), German, French, Italian, Portuguese, Spanish, Russian, Dutch, Japanese, Simplified Chinese, Traditional Chinese(Zhuyin, Cangjie, Quick input).
For the keyboard input of other languages, we may consider adding them in the future if we receive enough demands.
On the other hand, Android system supports a wide range of languages, with which you will be able to turn on touch screen input as a supplement.
TELECOM COMPATIBILITY
How do I know if the phone can work with my SIM card in my country?
1. Check the feedback from other users here.
2. Please find the the phone's supported bands in product specs and check if those meet your sim-card carrier's needs or contact your carrier.
* Due to different carrier's policy regarding to unlocked phones, LTE wireless service may not be available even if listed bands are supported by your carrier. When this happens, please contact your carrier for more details.
Is the phone compatible with Verizon?
Our phone can work fine in Verizon network. However, as it is not certified by Verizon, you cannot activate your new SIM card with it. Please activate the new SIM card with another Verizon certified device and then use it in your Unihertz phone.
TECHNICAL ISSUES (PROBLEM SHOOTING)
How to solve the problem of black screen when calling?
Please follow the guide to do a micro-calibration for your phone (you can also contact us for a video guide):
1. Please clear the dust in your proximity censor hole on top of your phone.
2. Input *#3377# in the Dial-up interface.
3. Click Distance calibration.
4. Follow the guide to finish the process.
What to do when some of apps in my phone don't run in the background while the screen is off?
Please permit the apps to run in the background by activating them in the following three settings:
1. Settings ->DuraSpeed
2. Settings ->Intelligent assitance ->App blocker
3. Settings ->App¬ification ->See all apps ->this app ->Battery ->Battery optimization and Background restriction->Don't optimize
You can also watch a video guide here.
I have upgraded my smartphone to the latest Android OS, am I able to downgrade to the older version?
It is not advised to downgrade your smartphone since there might be compatibility issues.
Why does my 4G SIM card display 3G after the setting?
Please contact your operator and check the APN parameters.
Why can't I access the Internet and send MMS.
Why I can hear others but they can't hear me?
1. Go to Sound Recorder app and run a recording test.
2. Check whether your SIM card works well on the other phone.
Why others can hear me but I can't hear them?
1. Please check if this only happened to some or all of friends you called.
2. Stay in the same location and insert your SIM card into another Android phone and the same issue arises.
3. Turn on call record in the call interface to record a call, then check whether the sound recorded is normal.
Why my battery runs out so quickly?
1. Please send us a full screenshot of your battery usage in Settings ->battery ->battery usage.
2. Follow these steps to capture the battery log and send it to service@unihertz.com for further analysis.
REPAIR AND WARRANTY
When returning the phone back for analysis, do I have to send the accessories (such as charger and cable) back?
For repair, please send without the accessories.
For replacement or refund, please send with accessories in one package.
Is broken glass issue covered by warranty? Can I replace the screen by myself?
The broken glass is not covered by warranty.
Please send the smartphone back to us after negotiating with service@unihertz.com as we do not provide phone screen separately. Repair or replacement fee may apply.
Is my replaced phone covered by warrranty?
The repaired/ replaced device will get extra 90 days warranty or the remaining original warranty period, whichever is longer.
Absolument génial
Cela fait deux ans que j'ai un Atom XL, je suis agriculteur, je l'utilise dans des conditions très difficiles de chaleur, d'humidité, de secousses, de poussière et jamais il ne bronche. Une autonomie parfaite pour des longues journées de travail même avec utilisation d'Internet. Je vais en prendre un deuxième pour ma femme vigneronne.
Updated Review based on unit replaced by Unihertz themselves.
TL;DR
This phone is amazing. In all reality, the only con is the screen brightness in the sun, but I can deal. I've been using it for a month or so now alongside Tasker and Lightning Launcher Extreme and couldn't be happier.
-This phone is possibly the best phone I've ever had. The fact that it's unlocked gives it much more prestige.
-It is an incredibly snappy phone.
-It fits in my pocket and I can use it comfortably with one hand!
-The android update (Android 10) gives it great support with apps.
-Using it with the AT&T Bring Your Own Phone sim kit with Straight Talk and the service is awesome.
-The smaller screen may seem like a bad thing but you can binge Twitch, YouTube, playing games...anything for hours because the phone has less pixels to push AND it has a decent size battery (4300mAh).
-Speaker is nice and loud if you need it to be (usually I don't and have it at 50-75% even for alarms and such).
-The stock alarms are a great collection of birds chirping, water sounds and noticeable chimes.
-The device handles heat very well. Spent 3 hours driving with it mounted to the windshield while it was hot out and had no AC and the device didn't even slow down or drain extra battery while using the GPS.
-I've dropped the phone by accident a few times now and the phone hasn't seemed to be affected by it.
-The quick charge is another awesome thing with this phone AND it uses USB 3(I know a lot of phones have this, but still a great plus).
-I've already gotten used to the red "intelligent button" on the side and have switched around the actions a little to make using it easier for myself.
-The NFC chip is very quick as well.
-The Intelligent Assistant has a bunch of great things that give the phone greater quality of life changes such as the app blocker, which has 4 options for EVERY app (Boot Locker, Start Blocker, Background Blocker, and Background Cleanup). Definitely look into this part of the assistant if you want to maximize your battery life. (I can use my phone regularly for 3 days without having to charge.)
-I don't have any bluetooth or wifi issues.
-I haven't used the headphone jack or radio yet.
I really can't think of any notable cons. I absolutely love this phone. If this changes in the future, be sure I'll update my review once again.