Titan Pocket - The New QWERTY Android 11 Smartphone
Cerified by

3,425 backers have supported Titan Pocket on the platform.
Titan Pocket, The New Android QWERTY Smartphone For PKB Fans.

Responsive, Easy to Distinguish Keyboard

The reinterpretation of a classic physical keyboard design on the new Android 11 smartphone
Small & Light: Ergonomic for One-Handed Holding

Titan Pocket is 30% smaller and lighter than its predecessor, Titan. Feel at ease to hold and type with one hand.
3.1-inch Square Screen
716*720 screen resolution. Compatible with most Android Apps.
4000mAh Battery: Long Standby Time
Supported Keyboard Input Languages
Gallery
Top Media Quotes & Reviews
Media Endorsement

Unihertz Titan Pocket Specifications
---
Basic Information
Dimensions:
132.5 × 73.2 × 16.8 mm
Weight:
214 g (With Battery)
CPU:
Helio P70 Octa-Core (Up to 2.1GHz)
OS:
Android 11
Memory:
6GB + 128GB DDR4 1600MHz UFS 2.1
Battery:
Non-Removable 4000 mAh
SIM Card Type:
Dual Nano SIM Card
Micro SD:
Yes
Card Slot:
SIM 1 + Hybrid (SIM or Micro SD)
---
Display
Cover Glass:
Corning Gorilla Glass
Material:
LCD
Display Size:
3.1 inches
Resolution:
716 × 720 pixels
---
Camera
Rear Camera:
16MP AF
Front Camera:
8MP FF
---
Connectivity
Band:
2G GSM (Band 2/3/5/8), 3G WCDMA (Band 1/2/4/5/8/6/19), 3G CDMA2000 (Band BC0/BC1), 4G FDD-LTE (Band 1/2/3/4/5/6/7/8/12/13/17/18/19/20/25/26/28A/28B/66), 4G TDD-LTE (Band 34/38/39/40/41)
Wi-Fi:
WLAN 802.11 a/b/g/n/ac 2.4GHz/5GHz, Wi-Fi Direct, Wi-Fi Hotspot
Bluetooth:
Bluetooth 5.1
NFC:
Yes
Navigation:
GPS + GLONASS + BeiDou
---
Features
Sensors:
Fingerprint (Front-Mounted), G-Sensor, Gyroscope, Proximity, Ambient Light Sensor, Compass
Fingerprint:
Yes
Facial Recognition:
Yes
Infrared Port:
Yes
USB:
USB Type C
USB OTG:
Yes
Programmable Key:
Yes
Loudspeaker:
Yes
3.5mm Headphone Jack:
Yes
Wireless Charging:
No
FM Radio:
Yes
---
Misc
Color:
Black
Physical Keyboards:
QWERTY Keyboard
SAR Value:
Head SAR (EU) : 0.618 W/kg, Body SAR (EU) : 1.098 W/kg, Head SAR (US) : 0.531 W/kg, Body SAR (US) : 1.227 W/kg
---
Certification
---
In the Box
GENERAL QUESTIONS
Where to find the IMEI number 1 and 2?
1. Go to Settings ->System ->About Phone ->IMEI number 1 and 2.
2. Look for the IMEIs on the box of the phone (if you still have it).
How to update my phone?
Settings ->System ->About phone ->Wireless update
Why can't I receive the latest update on my phone?
Please follow these steps to clear cache before searching for the update again:
Settings -> App Notifications ->See all apps ->Show System (top right corner with 3 dots) ->Wireless update-> Clear Data and Cache
How to erase my personal data/ factory reset my phone?
How can I unlock my phone if I forgot my PIN or password?
If you have forgotten your phone password and want to unlock it, you will have to restore your device to its factory settings. Then you can set it up again and set a new screen lock.
However, all data on your phone will be erased and cannot be restored. It is recommended that you confirm whether you have backed up your phone data on the cloud or by other means. It is also recommended that you confirm whether you or someone else has changed the PIN/password. If you still cannot recall the password, refer to last Question to restore your device.
How many keyboard languages does Titan and Titan Pocket support?
English, English(UK), German, French, Italian, Portuguese, Spanish, Russian, Dutch, Japanese, Simplified Chinese, Traditional Chinese(Zhuyin, Cangjie, Quick input).
For the keyboard input of other languages, we may consider adding them in the future if we receive enough demands.
On the other hand, Android system supports a wide range of languages, with which you will be able to turn on touch screen input as a supplement.
TELECOM COMPATIBILITY
How do I know if the phone can work with my SIM card in my country?
1. Check the feedback from other users here.
2. Please find the the phone's supported bands in product specs and check if those meet your sim-card carrier's needs or contact your carrier.
* Due to different carrier's policy regarding to unlocked phones, LTE wireless service may not be available even if listed bands are supported by your carrier. When this happens, please contact your carrier for more details.
Is the phone compatible with Verizon?
Our phone can work fine in Verizon network. However, as it is not certified by Verizon, you cannot activate your new SIM card with it. Please activate the new SIM card with another Verizon certified device and then use it in your Unihertz phone.
TECHNICAL ISSUES (PROBLEM SHOOTING)
How to solve the problem of black screen when calling?
Please follow the guide to do a micro-calibration for your phone (you can also contact us for a video guide):
1. Please clear the dust in your proximity censor hole on top of your phone.
2. Input *#3377# in the Dial-up interface.
3. Click Distance calibration.
4. Follow the guide to finish the process.
What to do when some of apps in my phone don't run in the background while the screen is off?
Please permit the apps to run in the background by activating them in the following three settings:
1. Settings ->DuraSpeed
2. Settings ->Intelligent assitance ->App blocker
3. Settings ->App¬ification ->See all apps ->this app ->Battery ->Battery optimization and Background restriction->Don't optimize
You can also watch a video guide here.
I have upgraded my smartphone to the latest Android OS, am I able to downgrade to the older version?
It is not advised to downgrade your smartphone since there might be compatibility issues.
Why does my 4G SIM card display 3G after the setting?
Please contact your operator and check the APN parameters.
Why can't I access the Internet and send MMS.
Why I can hear others but they can't hear me?
1. Go to Sound Recorder app and run a recording test.
2. Check whether your SIM card works well on the other phone.
Why others can hear me but I can't hear them?
1. Please check if this only happened to some or all of friends you called.
2. Stay in the same location and insert your SIM card into another Android phone and the same issue arises.
3. Turn on call record in the call interface to record a call, then check whether the sound recorded is normal.
Why my battery runs out so quickly?
1. Please send us a full screenshot of your battery usage in Settings ->battery ->battery usage.
2. Follow these steps to capture the battery log and send it to service@unihertz.com for further analysis.
REPAIR AND WARRANTY
When returning the phone back for analysis, do I have to send the accessories (such as charger and cable) back?
For repair, please send without the accessories.
For replacement or refund, please send with accessories in one package.
Is broken glass issue covered by warranty? Can I replace the screen by myself?
The broken glass is not covered by warranty.
Please send the smartphone back to us after negotiating with service@unihertz.com as we do not provide phone screen separately. Repair or replacement fee may apply.
Is my replaced phone covered by warrranty?
The repaired/ replaced device will get extra 90 days warranty or the remaining original warranty period, whichever is longer.
Such a breath of fresh air!
I absolutely love my Titan Pocket! As someone who lives with finger and hand issues, typing on a screen has been rather hard for me to do. The keyboard has been amazing and nostalgic! Also, I tend to drop things a lot, but my Titan Pocket, tho showing tiny dings, is still motoring along like nothing happened! I'm about to take it on the Appalachian Trail, and I have zero worries!
best phone ever
The Titan Pocket by Unihertz is a remarkable Android QWERTY smartphone that beautifully marries the nostalgia of a classic physical keyboard with the cutting-edge features of the Android 11 operating system. As a proud owner of this device, I can confidently say that it has exceeded my expectations in various aspects.
One of the standout features of the Titan Pocket is its responsive and user-friendly physical keyboard. The keys are well-spaced and easy to distinguish, providing a comfortable typing experience that harks back to the golden era of physical keyboards. Whether you're composing emails, messaging, or simply enjoying the tactile pleasure of typing, the Titan Pocket's keyboard delivers on all fronts.
The integration of the Android 11 operating system further elevates the user experience. The seamless navigation, intuitive interface, and access to a plethora of apps on the Google Play Store make this smartphone a versatile companion for both work and play. The Titan Pocket effortlessly combines the familiarity of a classic keyboard with the modern functionality of Android, offering the best of both worlds.
In terms of build quality, the Titan Pocket stands out with its robust construction. The device feels sturdy in hand, and the attention to detail in design is evident. The compact size makes it convenient to carry, while the durable materials ensure longevity and resilience in daily use.
What sets the Titan Pocket apart is its popularity among global physical keyboard enthusiasts. This niche market often craves the tactile feel of a physical keyboard, and the Titan Pocket delivers it with flair. It's heartening to see a smartphone that caters to a specific audience while maintaining a commitment to quality and innovation.
In conclusion, the Titan Pocket is a delightful choice for those who appreciate the convenience of a physical keyboard without compromising on the benefits of a modern Android smartphone. Unihertz has successfully crafted a device that pays homage to the past while embracing the present, making the Titan Pocket a standout option for users who value a unique and satisfying smartphone experience.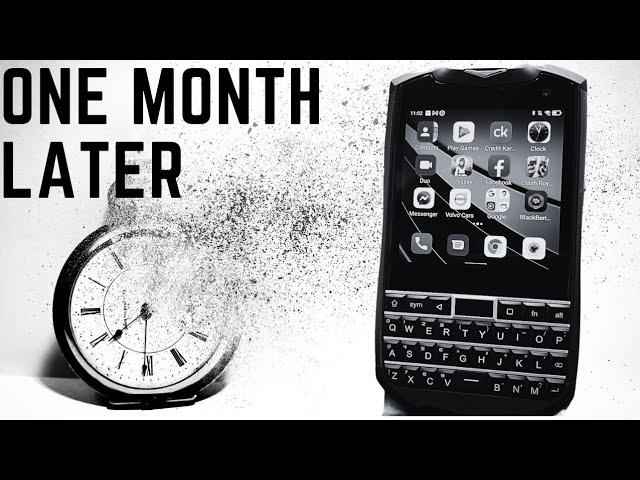 TOll aber...
Nach 2 Jahren und etlichen stürzen, hat mein Display sich verabschiedet...Passiert, dafür gebe ich kein Stern abzug (selbst schuld), was mich gestört hat ,auf manche hompages konnte mann nicht zugreifen, wegen der Auflösung konnte ich nicht die cookie Einstellungen bestätigen. schwamm drüber. Was mich jedoch am meisten gestört hat ist, dass die Kamera manchmal nicht funktioniert hat (beide gleichzeitig) Treiber problem oder so. Da ich jeden Tag Rechnungen fotografieren muss, war dies sehr lästig. erst nachdem ich das Handy mehrmals ausgeschaltet habe, ging es wieder. Es könnte an Android liegen, doch ich kenne niemanden der ein ähnliches problem hatte. Die Navigation in Google Maps hat meine position immer schief dargestellt, die wasserwaage war nicht richtig kalibriert. Akku, Leistung, Licht etc. alles ok. Ich habe mir jetzt das Slim bestellt, ich mag das Design ( a la Blackberry). Ich bin und war sonst zufrieden, ich freue mich bereits auf das slim! Grüße FFM GERMANY