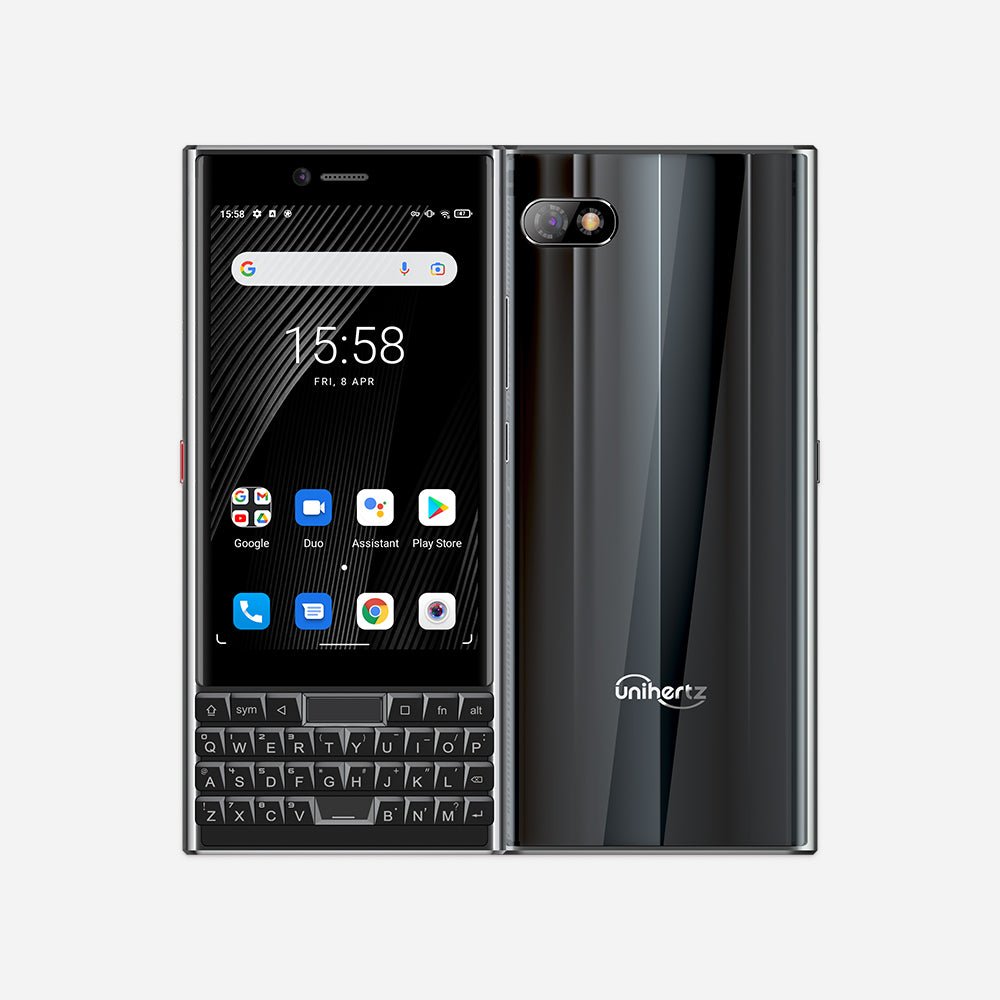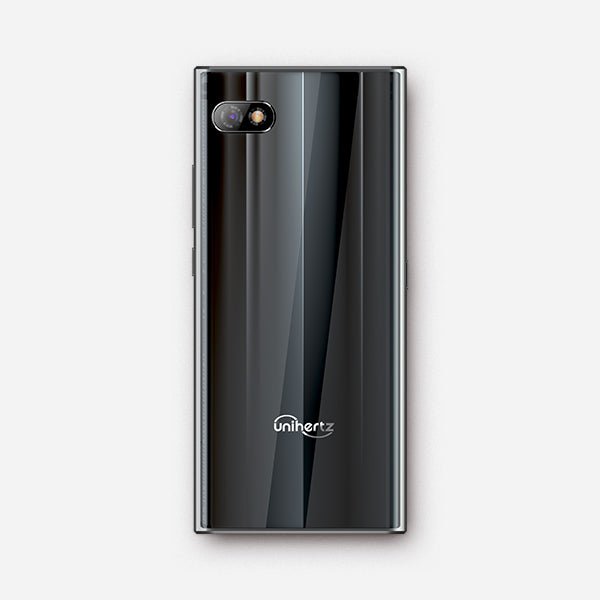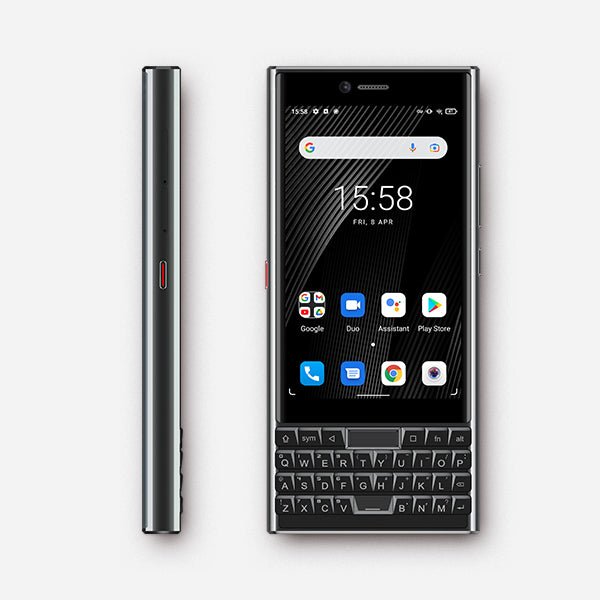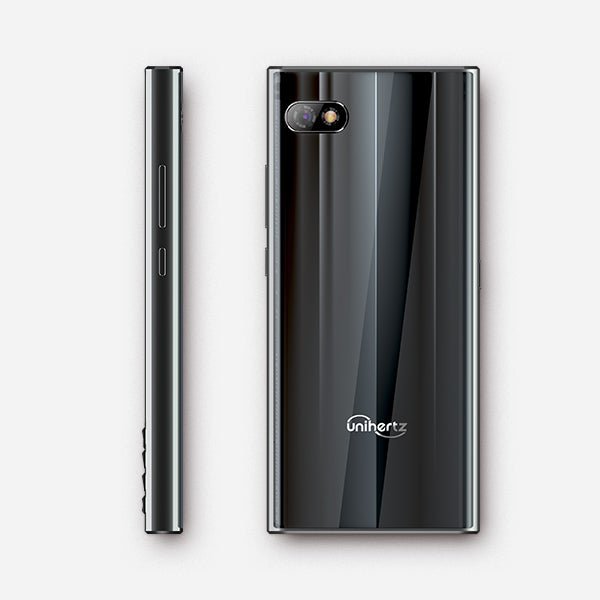 Titan Slim - The New Sleek QWERTY Smartphone
New Sleek QWERTY Keyboard Smartphone - Titan Slim
Titan Slim, the smallest and lightest smartphone in the Unihertz Titan Series, provides a smooth, even, and light grip. Enjoyable to hold, it makes every interaction a delight.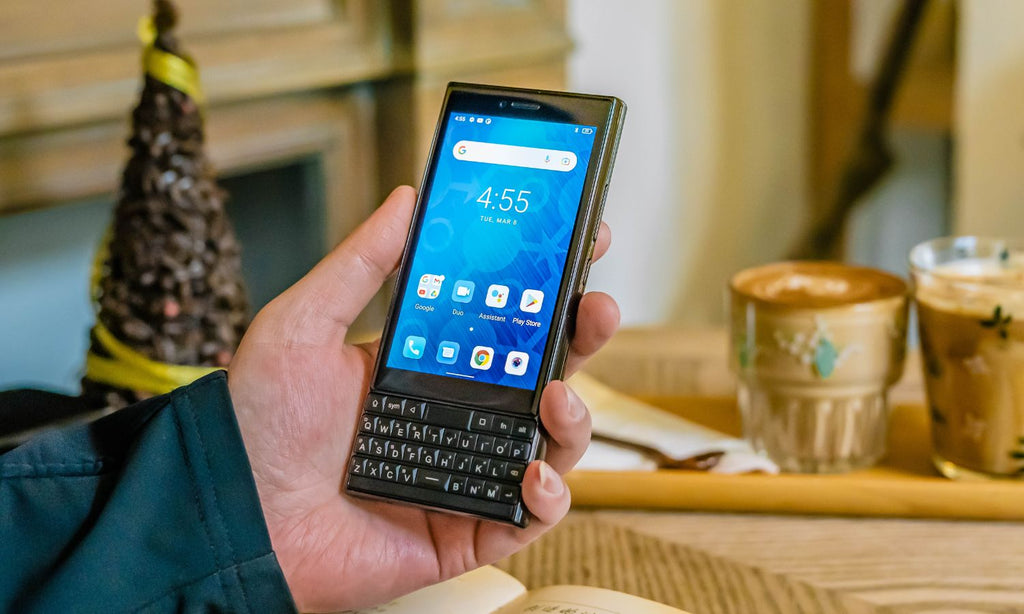 Excellent Tactile Typing Experience
Titan Slim's physical keyboard offers superb typing performance and functional shortcuts. With the complete keyboard of Titan Slim, you may type with ease in a variety of languages, including French, German, Japanese, etc.
Keyboard Languages
4.2-Inch Rectangular Screen
This time, we've improved the display of the Titan Series! Now you can use most apps without using mini mode like the previous Titan or Titan Pocket thanks to the new rectangular screen. Browsing and watching videos is made easy!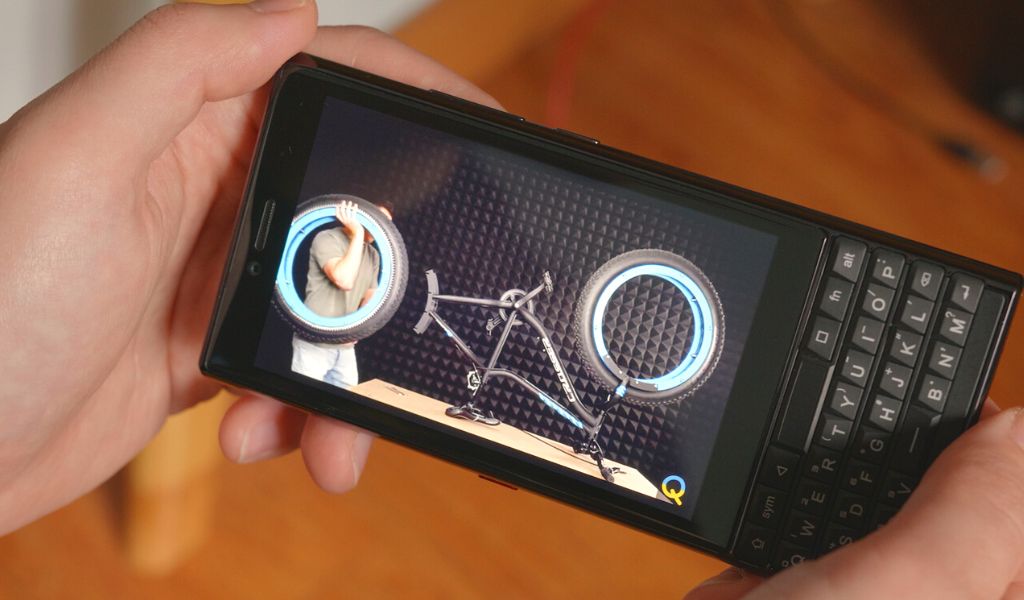 Enhanced 48MP Camera

The rear camera is optimized to 48MP compared to its predecessors, enabling you to shoot better pictures with sharper details and more vibrant colors.
256GB Memory
Titan Slim comes with a boost in its storage! You may save more pictures, music, or other documents with the 256G memory. With Titan Slim, you can manage your work files with ease.
Fingerprint & Face ID Unlock

The fingerprint sensor is hidden in the physical keyboard. The unlock time of roughly 0.1s offers a smooth user experience while securely protecting your privacy.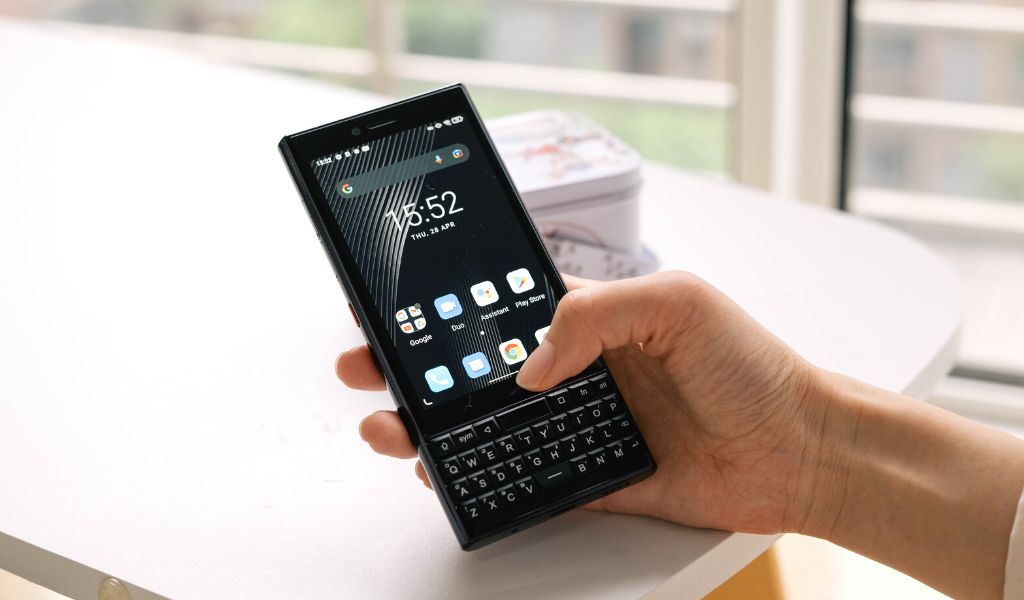 Fully-Functional Smartphone for Life and Work
Running the Android OS, Titan Slim is compatible with most apps in the Google Play Store. You can also copy apps and data from your old device without any barriers.
Media Endorsement
Unihertz Titan Slim Specification
---
Basic Information
Dimensions:
146.85 × 67.6 × 12.75 mm
Weight:
204 g (With Battery)
CPU:
Helio P70 Octa-Core (Up to 2.1GHz)
OS:
Android 11
Memory:
6GB + 256GB DDR4 1600MHz UFS 2.1
Battery:
Non-Removable 4100 mAh
SIM Card Type:
Dual Nano SIM Card
Micro SD:
No
---
Display
Cover Glass:
Corning Gorilla Glass
Material:
LCD
Display Size:
4.2 inches
Resolution:
768 × 1280 pixels
---
Camera
Rear Camera:
48MP AF
Front Camera:
8MP FF
---
Connectivity
Band:
2G GSM (Band 2/3/5/8), 3G WCDMA (Band 1/2/4/5/6/8/19), 3G CDMA2000 (Band BC0/BC1), 4G FDD-LTE (Band 1/2/3/4/5/6/7/8/12/13/17/18/19/20/25/26/28A/28B/66), 4G TDD-LTE (Band 34/38/39/40/41)
Wi-Fi:
WLAN 802.11 a/b/g/n/ac 2.4GHz/5GHz, Wi-Fi Direct, Wi-Fi Hotspot
Bluetooth:
Bluetooth 5.1
NFC:
Yes
GPS:
GPS + GLONASS + BeiDou
---
Features
Sensors:
Fingerprint (Front-Mounted), G-Sensor, Gyroscope, Proximity, Ambient Light Sensor, Compass
Fingerprint:
Yes
Facial Recognition:
Yes
Infrared Port:
Yes
USB:
USB Type C
USB OTG:
Yes
Programmable Key:
Yes
Loudspeaker:
Yes
3.5mm Headphone Jack:
No
Wireless Charging:
No
FM Radio:
Yes
---
Misc
Color:
Black
Physical Keyboards:
QWERTY Keyboard
SAR Value:
Head SAR (EU): 0.285 W/kg, Body SAR (EU): 1.642 W/kg, Head SAR (US): 0.578 W/kg, Body SAR (US): 1.373 W/kg
---
In the Box
Please check if your questions are in this FAQ list. If you have issues other than these, please contact service@unihertz.com for help.
While contacting customer support, please include the following information:
Your order number and IMEIs.
Videos/ images dipicting your problems (for a better diagnosis).
General Questions
#1 Where to find the IMEI number 1 and 2?
Go to Settings ->System ->About Phone ->IMEI number 1 and 2.
Look for the IMEIs on the box of the phone (if you still have it).
#2 How to update my phone?
Settings ->System ->About phone ->Wireless update.
#3 Why can't I receive the latest update on my phone?
Please follow these steps to clear cache before searching for the update again:
Settings -> App Notifications ->See all apps ->Show System (top right corner with 3 dots) ->Wireless update-> Clear Data and Cache
#4 How to erase my personal data/ factory reset my phone?
Reset to Factory Settings (When your phone cannot be turned on)
Power off your phone -> Press and hold the Power and Volume up buttons -> After your phone vibrates, keep holding the buttons for 5 seconds to enter Recovery mode -> Press the Volume up and down buttons to select the option to clear data or restore your device to its factory settings -> then press the Power button to confirm -> Reboot your phone
#5 How can I unlock my phone if I forgot my PIN or password??
If you have forgotten your phone password and want to unlock it, you will have to restore your device to its factory settings. Then you can set it up again and set a new screen lock.
However, all data on your phone will be erased and cannot be restored. It is recommended that you confirm whether you have backed up your phone data on the cloud or by other means. It is also recommended that you confirm whether you or someone else has changed the PIN/password. If you still cannot recall the password, refer to Question #4 to restore your device.
#6 How many keyboard languages does Titan and Titan Pocket support?
English, English(UK), German, French, Italian, Portuguese, Spanish, Russian, Dutch, Japanese, Simplified Chinese, Traditional Chinese(Zhuyin, Cangjie, Quick input).
For the keyboard input of other languages, we may consider adding them in the future if we receive enough demands.
On the other hand, Android system supports a wide range of languages, with which you will be able to turn on touch screen input as a supplement.
Telecom Compatibility
#1 How do I know if the phone can work with my SIM card in my country?
Please find the the phone's supported bands in product specs and check if those meet your sim-card carrier's needs or contact your carrier.
* Due to different carrier's policy regarding to unlocked phones, LTE wireless service may not be available even if listed bands are supported by your carrier. When this happens, please contact your carrier for more details.
#2 Is the phone compatible with Verizon?
Our phone can work fine in Verizon network. However, as it is not certified by Verizon, you cannot activate your new SIM card with it. Please activate the new SIM card with another Verizon certified device and then use it in your Unihertz phone.
Technical Issues (Problem Shooting)
#1 How to solve the problem of black screen when calling?
Please follow the guide to do a micro-calibration for your phone (you can also contact us for a video guide):
Please clear the dust in your proximity censor hole on top of your phone.
Input *#3377# in the Dial-up interface.
Click Distance calibration.
Follow the guide to finish the process.
#2 What to do when some of apps in my phone don't run in the background while the screen is off?
Please permit the apps to run in the background by activating them in the following three settings:
Settings ->DuraSpeed
Settings ->Intelligent assitance ->App blocker
Settings ->App&notification ->See all apps ->this app ->Battery ->Battery optimization and Background restriction->Don't optimize
You can also watch a video guide here.
#3 I have upgraded my smartphone to the latest Android OS, am I able to downgrade to the older version?
It is not advised to downgrade your smartphone since there might be compatibility issues.
#4 Why does my 4G SIM card display 3G after the setting?
Please contact your operator and check the APN parameters.
#5 Why can't I access the Internet and send MMS.
Please follow the steps here to set the APN.
#6 Why I can hear others but they can't hear me?
Go to Sound Recorder app and run a recording test.
Check whether your SIM card works well on the other phone.
#7 Why others can hear me but I can't hear them?
Please check if this only happened to some or all of friends you called.
Stay in the same location and insert your SIM card into another Android phone and the same issue arises.
Turn on call record in the call interface to record a call, then check whether the sound recorded is normal.
#8 Why my battery runs out so quickly?
Please send us a full screenshot of your battery usage in Settings ->battery ->battery usage.
Follow these steps to capture the battery log and send it to service@unihertz.com for further analysis.
Repair and Warranty
#1 When returning the phone back for analysis, do I have to send the accessories (such as charger and cable) back?
For repair, please send without the accessories.
For replacement or refund, please send with accessories in one package.
#2 Is broken glass issue covered by warranty? Can I replace the screen by myself?
The broken glass is not covered by warranty.
Please send send the smartphone back to us after negotiating with service@unihertz.com as we do not provide phone screen separatel. Repair or replacement fee may apply.
#3 Is my replaced phone covered by warrranty?
The repaired/ replaced device will get extra 90 days warranty or the remaining original warranty period, whichever is longer.
Thank You Unihertz!! So far, the best physical keyboard out there
Hey Slim, reverse the comma and period placement on the physical keyboard (it would then be the best compact physical keyboard phone on the planet!). The period/comma placement isn't ideal imho. Of course, If that is the only con, that is saying something.
Incidentally, like others, I have had all of the physical keyboard phones ever made, and the Titan Slim is the best you can buy - by far - in terms of use and 4G+ functionality. When the carrier dropped the last BlackBerry, I bought the Titan Slim as a holdover while waiting for the Astro or Pro1x. Titan Slim works out of the box. Others promise and have yet to deliver. Slim makes and takes calls, texts, and has a two day battery to boot. It is not a BlackBerry, but it is close. Slim is my daily driver and proud to use it. It needs only the period/comma reversed, a micro-SD slot, and the newest Android software. If a Slim II 5G comes out, I will buy.
I haven't had a problem with the fingerprint sensor placement like others have mentioned, but I also keep it in its leather pouch to protect it from the elements. Oh, and if Unihertz wants to continue to innovate, reach out to us power users for input on future models. We know what we want in a physical keyboard phone.
Thank you for building the Titan Slim!!!
LTE connection replaced the Key One
One year and no issues setting up on the Verizon network takes a bit more effort however once completed your good
it would be nice to see OS updates and a 5G capability
Awesome! Can't wait for version 2.0
Awesome throwback. Durable phone and keyboard is a great experience. I really hope a newer version comes out with a few upgrades. I would never go back to other phones with this having a few changes. Things I wish it had:
1) WiFi can handle mesh networks
2) had 5g connection
3) better WiFi connection in general
4) next step up on processor (doesn't have to be flagship)
5) better cameras
6) sexier and thinner phone design (isn't the most important)